Newsmax's Black Keeps Sucking Up To Trump (And Nixon Too)
Topic: Newsmax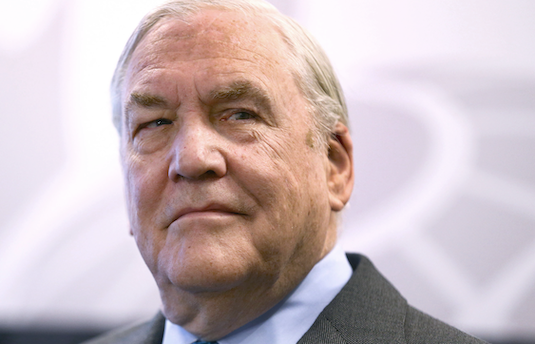 Conrad Black -- notorious sucker-upper to Donald Trump -- spent part of his July 8 column complaining that historians ranked Trump's presidency too low:
President Trump's status at number 41 is utterly nonsensical.

His achievements in reducing illegal immigration by 95%, eliminating unemployment, generating higher percentage income gains in the lowest rather than in the highest income brackets, solid advances in Mideast peace, taming North Korea, and shaping up the NATO alliance will eventually be seen as far more important than stylistic infelicities when the current tide of partisan zeal and snobbery has ebbed.
He then declared Trump would be in his second tier of presidents, which he deemed "above average."
Black followed up in his July 29 column, complaining that reporter Carl Bernstein criticized Trump's presidency:
This past Sunday, Bernstein solemnly asserted to the porcine CNN Trump-hater Brian Stelter, that Trump is "an American war criminal operating within his own country," and that "when we're talking about Trump, we're obviously talking about a kind of delusional madness."

On a gentle probing from Stelter, Bernstein elaborated that his status as a war criminal consists of his "crimes against humanity" which "he has perpetrated upon our people, including the tens of thousands of people who died because of his homicidal negligence in the pandemic."

Naturally, the fact that Trump probably saved millions of lives around the world with his facilitation of an early vaccine went unmentioned and his homicidal contact was not remotely identified.

Bernstein continued, saying Trump's "actions in terms of fomenting a coup in which to hold onto office and which the chairman of the Joint Chiefs of Staff has now compared . . . to Hitler . . . to brownshirts, to the Reichstag fire."

This is unspeakable and demented nonsense; certainly the chairman of the Joint Chiefs should be fired.
But Trump wasn't the only ex-president whose reputation Black wants to rehabilitate. He wrote of Richard Nixon in his July 8 column:
Gradually, as cant and emotionalism subside, historians take note of the fact that there is still no conclusive evidence that Nixon himself broke any laws, though some people in his entourage did.

And on revisiting his presidency, each year the Watergate controversy will be less important in comparison with his achievements in normalizing relations with China, negotiating and signing the greatest arms control agreement in history with the Soviet Union, extracting the United States from the Vietnam War while maintaining a non-Communist government in Saigon.

Nixon also worked to end school segregation while avoiding the bussing of tens of millions of schoolchildren out of their neighborhoods as the courts had ordered, founded the Environmental Protection Agency (EPA), ended the draft, and ended the violent demonstrations that plagued the country relentlessly in the last year of his predecessor Lyndon B. Johnson's administration.

This record will eventually put Nixon in the top 15 presidents, up from 31 in this survey, and about 40th in 2001.
Black placed Nixon in his highest tier of presidents that he deemed "unusually capable."
In his July 29 column, Black demanded that Nixon receive "balanced historical treatment":
He must, of course, take principal responsibility for the disgrace and embarrassment of Watergate; he permitted, and at times encouraged, a tawdry atmosphere within the White House in which legalities were often treated a bit casually and Nixon rather self-servingly applied the Truman-Eisenhower latitudinarian version of national interest and the president's practically unlimited right to define it.

These were terrible tactical errors and no one can deny that Nixon paid heavily for them.

But against that, and despite the fact that he was the first president since Zachary Taylor in 1848 to take office with neither house of Congress in the hands of his own party, Nixon enjoyed one of the most successful single terms in the history of the U.S. presidency.

[...]

He extracted the United States from the Vietnam War while maintaining a non-Communist government in Saigon which would have had a chance of survival if the Watergate crisis had not prevented him from resuming aerial bombardment of the North when that country, as had been expected, violated the peace agreement and resumed its invasion of the South.

These are the reasons, and not any minor political skulduggery, that President Nixon was reelected by 18 million votes in 1972, a plurality that has not been approached in the subsequent half-century even though the electorate has grown steadily larger.
He then attacked Bernstein and his former journalistic partner Bob Woodward, complaining that "the absurdly antagonistic and muckraking treatment that they have frequently inflicted on some of Nixon's successors must reflect on the credibility of their coverage of the Watergate affair that so durably influenced public and international opinion about Nixon," dismissing most of what they got from "Deep Throat" -- later revealed to be FBI official Mark Felt -- as nothing more than "malicious gossip prompted by the source's failure to be elevated to succeed J. Edgar Hoover as director of the FBI."
Posted by Terry K. at 3:00 PM EDT