How Is WND (And CNS) Columnist Ilana Mercer Being A White Nationalist These Days?
Topic: WorldNetDaily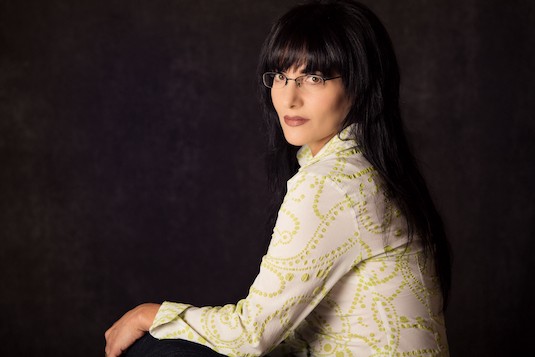 It's been a while since we checked in on WorldNetDaily (and CNSNews.com) columnist Ilana Mercer -- and we see she's continuing her slide into full-blown white nationalism. She ranted in her May 6 column:
Institutionalized, systemic anti-whiteness, yoked to white-hot hatred of whites: That is the creed that is fast becoming entrenched across state and civil society in the U.S.

Chiseled down, these are also the building blocks of Critical Race Theory, a specious, sub-intelligent concoction, originated by sub-par intellectuals.

The Critical Race project now pervades private and political life.

A further twist of the screw (or the shrew) was delivered recently by Vice President Kamala Harris, who insists on yammering about white America's historic racism.

In practice, whites are being singled out for a punishing, institutionalized program of reeducation, subjugation and continued intimidation.
She went on to invoke her native South Africa, complaining that "As an organizing principle, however, South Africa's political, economic and social institutions are firmly anti-white. They imperil whites as a principle." She conveniently omitted mention of South Africa's decades of apartheid, when the country's political, economic and social institutions are firmly anti-black. (Remember, Mercer is trying to have it both ways on apartheid, denouncing it as a racial tool but making an intellectual case for it as an anti-communist tool.)
In her May 27 column, Mercer continued her argument that critical race theory must be stopped to save white people:
Nobody will utter the words "anti-white," or articulate the "anti-white" essence of Critical Race Theory. CRT is always euphemized as things other than a hatred of whites and a resolve to blacken them. Always.

White kids are Critical Race Theory's innocent targets in schools. Yet not one of the anointed critics of the critical-race bile has stated the obvious, and that is that, while white kids are brow-beaten, black and brown kids are buoyed by Critical Race Theory. They come up smelling like roses and punching like knock-out game champions.

Not one of Critical Race Theory's conscientious objectors has said, "Whites. White kids": The true victims of the critical race miseducation are white kids, as they are the sole repository of hate and aggression in this critical-race blitzkrieg.

[...]

Critical Race Theory's central project is to make whites accept dhimmitude, not socialism. (If the practitioners of anti-whiteness, who already practice capitalism as consumers and producers in a market economy, were converted to theoretical capitalism – would their anti-whiteness dissipate? Naturally not.)
"Dhimmi" -- a word that refers to the ancient Muslim practice of allowing those to decline to convert to Islam to live -- is a word almost exclusively invoked today by anti-Muslim activists to suggest that the practice is going on now to some extent. Here, Mercer's use of the word is weirdly suggesting that CRT advocates want to make white people second-class citizens -- or, as she continued to huff, "Differently put, white lives matter less."
In her June 10 column, Mercer raged against a psychiatrist named Aruna Khilanani -- who she renamed "KhilaWhiteMan" because "It's apropos – and 'white privilege' makes it hard for me to pronounce her name" -- expressing a fantasy to kill white people:
For her murderous fantasies against the pigmentally deficient, Dr. KhilaWhiteMan ought to have been criminally profiled by the FBI's Behavioral Analysis Unit. This primitive reptilian brain might be a danger to the community waiting to happen.

Instead, morality has been inverted. Rather than being hobbled by her deviant views and disgusting demeanor, Dr. KhilaWhiteMan has been approved and elevated at every step of her privileged romp through America's institutions.

Someone in authority invited such scum of the earth to give a talk to the nation's top university, Yale, an intellectual s**thole, really.

Someone high-up approved of, even liked, the topic of this vile woman's address, which was, "The Psychopathic Problem of the White Mind."

A system designed to marginalize white Americans selected Khilanani to train as a healer, a psychiatrist, ministering to vulnerable others.

This mental pigmy, whose expressed aspiration is to terrorize whites, has been put through America's professional ringer. Khilanani is a proud product of America: She has emerged from an educational system that has approved of her at every step of the way. Prestigious medical bodies and institutions have given her the go-ahead to ply her profession.
Remember, Mercer hangs out with the likes of VDARE -- which published the preface to her book "Into the Cannibal's Pot."
In the meantime, Mercer has posted videos of interviews she did with right-wing British blogger and politician David Vance -- who was kicked off Twitter last fall for a history of racism. The company you keep and all that.
UPDATE: In her June 17 column (also published at CNS), Mercer cheered that Charles Murray -- a social scientist who's best known for pushing the racist idea that other races are inferior to whites -- allegedly confirmed the "analytical truths" in her book. She declared that "generalizations about certain group characteristics are, in aggregate, valid," then rehashed an August 2020 WND column in which she wrote that "Systemic racism is most certainly not 'the only plausible explanation' for the lag in the fortunes of African-Americans, although, as it stands, systemic racism is inferred solely from one single fact: In aggregate, African-Americans trail behind whites in assorted academic and socio-economic indices and achievements." She concluded: "It is what it is. Aggregate group differences in achievement, athleticism and inhibition-control are here to stay."
Posted by Terry K. at 12:48 AM EDT
Updated: Sunday, August 1, 2021 6:26 PM EDT