MRC Psaki-Bashing, Doocy-Fluffing Watch, Guest Writer Edition
Topic: Media Research Center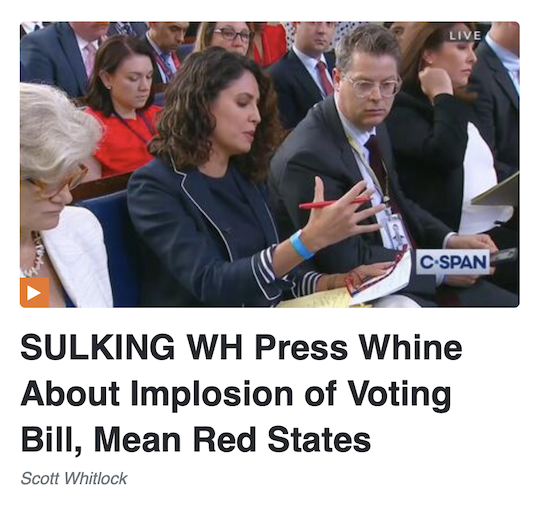 Curtis Houck took a break from his biased reviews of Jen Psaki's White House press briefings in mid-June, so we were spared his usual sanctimoniousness. But not entiresly, since Scott Whitlock pinch-hit for a couple days. on June 22, Whitlock pretended to read the minds of reporters to make the headline claim that "SULKING White House Press Whine About Implosion of Voting Bill, Nasty Red States":
The radical attempt by Democrats to nationalize voting across the country appears to going down to defeat on Tuesday. So at the White House press briefing, the assembled partisan press whined that the administration didn't do more to save the legislation.

ABC's Cecilia Vega spoke directly for Democrats, telling Press Secretary Jen Psaki the difficulty is with red state Republicans: "But the problem, as Democrats at least see it, is not problems in blue states, state legislatures. It's Republican-controlled states where many of these decisions are already being made. So what leverage do you actually have? And what realistically do you think you can accomplish in some of these red states?"

Talk about a Democratic cheerleader.
No, Scott: A reporter repeating what a person's or group's viewpoint is on an issue does not equal endorsement of that viewpoint. That's just laziness on Whitlock's part.
The next day, Whitlock echoed Houck's man-crush on Fox News reporter Peter Doocy:
Finally, it was announced by the White House on Wednesday that Kamala Harris would be, at long last, visiting the border on Friday. And while many journalists and media outlets have downplayed the unfolding disaster there, Fox's Peter Doocy called out the cynical decision to send the Vice President there.

At Wednesday's White House briefing, Doocy demanded, "So about today's announcement. Why is the Vice President visiting the border this week when earlier this month, she dismissed a trip like that, saying it would be 'a grand gesture.'"
Houck was back the following week, meaning the Doocy man-crush could resume in full. Stay tuned.
Posted by Terry K. at 9:46 PM EDT