WND's Front-Page Smear Of Schumer
Topic: WorldNetDaily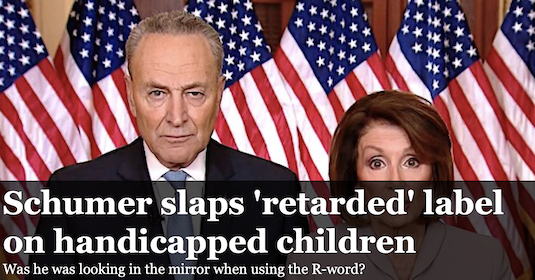 A June 14 WorldNetDaily article by Bob Unruh lectured Democratic Sen. Chuck Schumer for using the word "retarded" to describe people with developmental disabilities:
The Spread the Word Inclusion website explains that actor John C. McGinley of "Scrubs" believes calling people the "R-word," or "retarded, "is wrong."

"When you pepper your speak with 'retard' and 'retarded,' you are spreading hate," he said.

Further, Karleigh Jones, a New Zealand athlete at the Special Olympics, explained, "The word retard is considered hate speech because it offends people with intellectual and developmental disabilities as well as the people that care for and support them."

None of those opinions, however, prevented Senate Majority Leader Chuck Schumer, a Democrat, from using that label, according to the Washington Examiner.

He labeled disabled children with the "retard" designation during an interview on a podcast called OneNYCHA.

"One of the hosts, Saundrea Coleman, mentioned a new initiative in New York intending to shelter homeless people even though there are some opponents to the plan, which prompted Schumer to discuss his experiences," the report said.

Schumer said, about those who are skeptics of the proposed project, "I have found that my whole career. I wanted to build, when I first was an assemblyman, they wanted to build a congregant living place for retarded children, and the whole neighborhood was against it."

Unruh added, "Schumer has been working on a reputation for some pretty outlandish comments." You know who else has a reputation for outlandish comments? WND.

In the promotion of Unruh's article on WND's front page, it received the incredibly snide subhead, "Was he looking in the mirror when using the R-word?"
Unruh wrote an article the next day noting Schumer's apology for using the word. There was no apology from WND for its smear of Schumer.
As you'd expect from WND, this piety is utterly hypocritical:
There's no reason to expect anything less of WND.
Posted by Terry K. at 7:49 PM EDT
Updated: Friday, July 16, 2021 7:50 PM EDT