Chuck Norris Again Turns His WND Column Into A Paid Ad
Topic: WorldNetDaily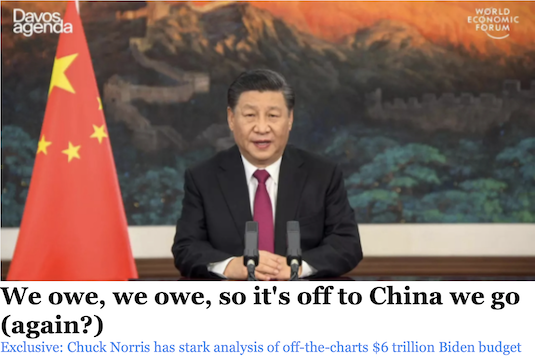 Joseph Farah gushed in his June 2 WorldNetDaily column:
I've known Chuck Norris for about 15 years. He's been a dear friend ever since I asked him, rather boldly, to be a columnist for WND. He's done everything I could ask and more – much more! Like promote himself as a WND columnist! I never dreamed that with a motion picture career, a television career, a martial arts career and a gonzo entertainment career like his he would ever do that. That's Chuck Norris. Now a young 81, he has given people who work with him his all.

And what's worst or better – I don't know which – he has a become a better columnist than ME. I don't know how he does it! He writes every week and has since the day he started. He has not disappointed.

He has with us in the best of times and the worst of times. He's a true friend.

And so is his wife, Gena, and his pastor, Todd DuBord.
Actually, as Farah almost certainly knows -- and as we noted a decade ago -- Norris doesn't actually write his columns; they are apparently ghostwritten by DuBord. We're not aware of Norris ever disputing that this is going on.
Then, Norris (well, DuBord) again used his column in a most unprofessional way: shilling for a company for which he's a paid spokesman. We've already documented how Norris has abused his column privilege by turning it into a blatant ad for a gold-selling firm (which WND apparently has no problem with, given how it also did an article on Norris becoming the company's paid spokesman). After spending a good part of his June 7 column ranting about the size of the national debt -- which somehow only President Biden got the blame for, even though his beloved Donald Trump increased federal debt by a whopping $7.8 trillion during his presidency -- it was time for his sales pitch:
It's high time for all Americans to quit waiting for federal or state governments to provide for your welfare, protection, relief and especially for permission to reboot your life, liberty and pursuit of happiness. It's time for Americans to quit hoping the feds will stabilize your money. It's not going to happen.

We need to protect what God has been good enough to give and to entrust to us: our faith, family, freedom and finances. I believe one of the best options for doing that is learning more and investing more in precious metals like gold and silver, as my wife, Gena, and I have been doing for 40 years. Through thick and thin, they've provided the financial backbone to our lives and livelihoods, and even brought us and our nonprofit mission, KickStart Kids, through some very tough times.

After researching a number of companies, we felt Goldco set the standard for integrity, the best advice and for helping Americans protect and grow their money. That's why I am proud to be an official spokesman for Goldco. In fact, Goldco is the only company I recommend for gold and silver.

Goldco's specialists can help you roll over or transfer assets from a 401(k), IRA, TSP, or pension account into a gold IRA. They work with mints around the world to source gold coins and bars and ensure that the gold you're buying is guaranteed to be 100% authentic. And they can even help you take a distribution in cash or gold.

The time for action and change is now! It's time for you to look beyond the dollar for your ongoing financial security and safety. Investing in precious metals is your way through and out of the next five years of inflation.

It's your life, future and finances. Take action now before it's too late. Contact a Goldco representative ASAP. At very least, go to their website and ask for the next edition of my FREE Goldco Church Norris Special Report and Bonus Newsletter. And tell them Chuck sent you!
Does Norris really need the money that badly that he feels he has to turn his column into someone else's paid ad? And does WND care so little about journalistic ethics that it lets Norris do that?
Posted by Terry K. at 5:45 PM EDT