Newsmax Floods The Zone On Fluffy Trump Appearances On Newsmax TV
Topic: Newsmax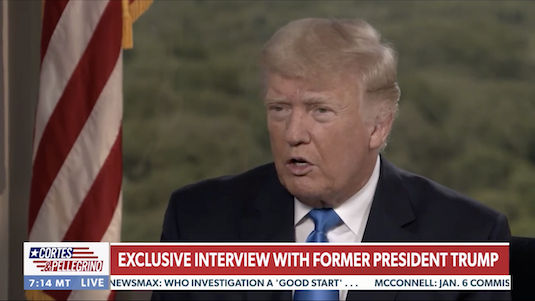 A May 25 Newsmax article gushed:
Former President Donald Trump will appear on Newsmax's "Cortes & Pellegrino" at 9 p.m. on Tuesday for a face-to-face interview.

The President will do a sit-down with co-host Steve Cortes, a former top advisor to Trump's 2020 presidential campaign.

Trump's conversation with Cortes will take place in New York's Trump Tower and cover major topics like China's role in the COVID virus, President Biden's spending plans, the January 6 Commission, rising anti-Semitism, the crisis at the southern border, and more.

Cortes and Jenn Pellegrino co-host the new prime-time show on Newsmax TV, now the 4th highest-rated cable news channel in America.
Since Newsmax is such a supporter of Trump that it parroted his lies about election fraud -- which resulted in some walkbacks in order to get out of defamation lawsuits -- and given that interviewer Cortes has served as a media surrogate for Trump, this would not be a hard-hitting interview. And indeed, it wasn't-- the main article, by Eric Mack, let Trump prattle on about his election fraud cponspriacy theories:
Big Tech and media Democrat allies effectively aided a rigged election by silencing stories on Hunter Biden and election fraud, President Donald Trump told Newsmax on Tuesday night in an exclusive interview.

"That's when you first saw silence," Trump told Steve Cortes on Tuesday's "Cortes & Pellegrino" of social media's blocking of the New York Post's reporting on the Hunter Biden laptop. "They silenced a newspaper. It's the oldest newspaper in our country, I believe, and it's a big one, but they silenced a newspaper in our country because they were talking about Hunter Biden.

"The other thing that they don't want to talk about – when you hear this whole culture of keeping things quiet, let's not talk about – is the election fraud."

Not only did the media rebuke attempts to investigate election fraud after the November election, the media is remaining quiet on the ongoing election audits in Arizona and more states, Trump lamented.
Since Mack didn't note it, we can assume that Cortes never bothered to confront Trump with the cobious evidence that his election conspiracy theories are lies.
Other articles from the interview simply quote Trump ranting and praising himself, again with no apparent pushback from Cortes:
And that wasn't even the full extent of Newsmax slobbering over Trump on May 25. Earlier in the day, Sandy Fitzgerald touted how Trumpo "slammed MSNBC "Morning Joe" anchor Joe Scarborough and his wife and co-host Mika Brzezinski, accusing them of launching attacks on him because their show rankings are dropping." That was followed an hour later by an article from the apparently unironically named Charlie McCarthy gushing that Trump "issued a statement offering condolences to Rob Carson following the death of the Newsmax host's mother."
Those kind of quid pro quos are the things that get Newsmax things like a fluffy sit-down with Trump.
Then, four days later, it happened again -- Trump did another Newsmax interview, this time with host Dick Morris. Mack sycophantically wrote: "In a wide-ranging phone interview, Trump delivered his America First, MAGA views as only he can, ripping Fox News, lamenting the Democrats-led turn against Israel, a softened approach to China allowing it to 'get away with murder,' defunding the police movements leading to massive crime increases in the U.S., and the destruction of women's rights." Newsmax squeezed a bunch more articles out of this interview as well:
Since Morris is an extreme Trump sycophant even by Newsmax standards, we can presume he didn't offer any pushback on anything.
Posted by Terry K. at 5:20 PM EDT
Updated: Tuesday, June 22, 2021 5:29 PM EDT