MRC Predictably Pounces On One Month Of Bad Employment Numbers To Bash Biden
Topic: Media Research Center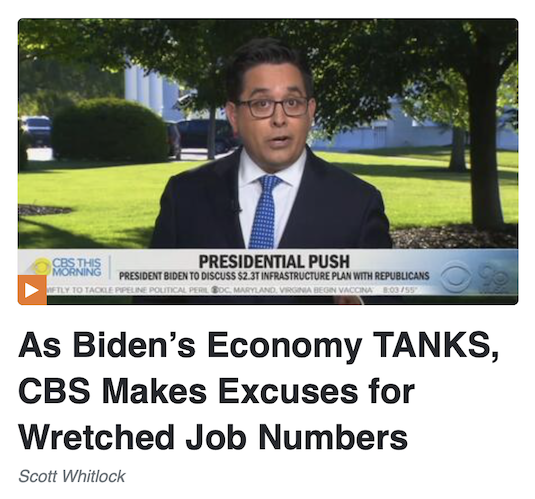 The Media Research Center loved to complain that the media was talking down the economy under President Trump -- but given the slightest opportunity, the MRC gleefully bad-mouthed the economy uner President Biden.
When the job growth numbers for April came in lower than expected, Joseph Vazquez rushed to blame Biden's economic policies (and not, you know, that people might be alittle leery about returning to work with the coronavirus pandemic still not completely under control) in a May 7 post:
The Bureau of Labor Statistics released a devastating report on job growth in April. It completely destroyed the media hype about the jobs growth under President Joe Biden. Their glowing job predictions were off by at least 734,000 jobs. Perhaps as much as 1,734,000 jobs.

The Bureau of Labor Statistics (BLS) reported that the U.S. economy added an embarrassing 266,000 jobs in April, and the unemployment rate ticked up to 6.1 percent. Fox Business host Charles Payne summed up the atrocious figures perfectly: "Congratulations President Biden - you have achieved the progressive utopia. At least 7.4 million job openings but only 266,000 people got a job last month." Less than 4 percent of the approximate job openings were filled. The report came after multiple media outlets were heralding an expected April boom to the tune of — checks notes — 1 million jobs added.
On May 11, Vazquez gushed over Payne again -- he loves Payne despite the fact that Payne has been credibly accused of sexual harassment -- uncritically repeating Payne's attacks on unemployment benefits:
Fox Business host Charles Payne told the American people what many in the media wouldn't dare say: Giving people money to not work doesn't incentivize them to find a job.

Payne scorched the haphazard predictions by economists and the media that the U.S. economy would add 1 million new jobs in April. He called the predictions a massive "swing and a miss" during the May 7 edition of Making Money. The Bureau of Labor Statistics (BLS) clocked the increase in April at an embarrassing 266,000 jobs, and the unemployment rate ticked up to 6.1 percent. Payne lambasted how "the narrative this year is that America was going to go on this string of million job months as our jobs openings created a whole bunch of opportunity. And well, so far that's not happening." In Payne's estimation, "[S]omething is obviously terribly wrong."
Acutally, numerous studies have shown that unemployment benefits do not keep people from seeking work. But it's against MRC policy to tell the truth if that truth conflicts with a cherished right-wing narrative.
Mark Finkelstein sneered in a post the same day: "Joe Biden was all geared up to go out last week and boast about the one million jobs the economy had added in April. But then the actual numbers came out, and . . . psych! Only 266,000 new jobs, 73 percent fewer than Biden was planning to brag about!" He then complained that New York Times reporter Elizabeth Bumiller -- whom he called "PATHETIC" in the headline -- called the low number a "real fluke" and would likely be revised upward the next month, adding, "It's not unusual, in fact, for jobs reports to be revised. But Bumiller's reflexive suggestion that they were likely to be revised up was telling. Think she would have made the same suggestion if a Republican president had suffered such a disappointing jobs report?"
Scott Whitlock followed up in a May 13 post with the incredibly dumb headline "As Biden's Economy TANKS, CBS Makes Excuses for Wretched Job Numbers":
With terrible new jobs numbers and rising inflation, CBS This Morning on Thursday made excuses for the Joe Biden economy, trying to find reasons not to blame the Democratic President. Reporter Ed O'Keefe explained that 11 Republican governors are pulling out of a program that raised unemployment checks by $300 a week.

O'Keefe conceded, "It comes as most recent job numbers were surprisingly low, just 266,000 jobs were added in April despite eight million job openings economists predicted the country would get at least a million jobs."

[...]

But nothing in the segment – or the whole show on Thursday – about other economic factors, such as inflation.
Whitlock cited the biased and partisan right-wing National Review as evidence of allegedly surging inflation.
Vazquez huffed in a May 18 post that "A National Public Radio host tried to spin the atrocious April jobs report numbers by accusing GOP governors of pushing people to go back to work when jobs aren't available. Fact-check: Millions of jobs were available." he then cited scandal-ridden right-wing economist Stephen Moore to claim that "Perhaps giving people free money is actually a really bad method to stimulate the economy."
On May 21, Vazquez got mad that The Hill accurately pointed out what he and the MRC were doing:
The Hill used the old "Republicans have pounced" cliché to turn attention away from the disastrous effects President Joe Biden's agenda is having on the economy.

The liberal outlet May 20, whining that "Republicans have pounced on unexpectedly high inflation readings and a disappointing jobs report for April." The Hillwhined that the GOP suggested the terrible economic data were "the products of an overzealous government response that could kneecap the economy." The tweet also happened to be the verbatim text from the second paragraph of The Hill reporter Niv Elis's pro-Biden spin story headlined: "Biden tries to navigate fits and starts of economic recovery."
At no point did Vazquez dispute the accuracy of the reporter pointing that right-wingers were using the jobs numbers to attack Bide; in stead, he complained that Elis "characterized the terrible jobs numbers as 'the potential quirks of an economy reawakening from a pandemic-induced slumber.'" He also offered no evidence that The Hill is a "liberal outlet."
Meanwhile, the May employment numbers proved the those who pointed out the flukiness of April's numbers correct -- 559,000 jobs were created last month, and April's numbers were adjusted upward from 266,000 to 278,000. Vazquez, the MRC's main blogger on economic matters, has yet to devote a post to the much better May numbers -- presumably because there's nothing for him to pounce on.
Posted by Terry K. at 7:47 PM EDT