Newsmax Columnist Pardoned By Trump Keeps Up The Trump-Fluffing
Topic: Newsmax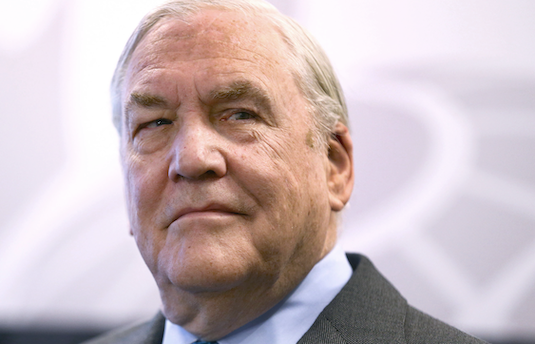 President Trump pardoned Conrad Black of fraud charges after he wrote a sycophantic book about Trump, so it's perhaps no surprise that the Newsmax columnist has gone all in on propping up Trump, to the point of rewriting the history of the Capitol riot. It's also not a surprise that Black is going all in on election fraud conspiracy theories in his May 11 column:
The question is whether the NeverTrumpers, abetted by the Democrats, can kill Trump's chances of a political resurrection.

Success will be impossible unless they can both stamp out the belief of approximately half the voters that 2020 was a tainted election, and keep alive the fiction that Trump was actively promoting an insurrection on Jan. 6.

This is bunk and the cornerstone of what is really the Big Lie — the Trump-haters' theory that he is just a hooligan and a sore loser of a fair election. In truth, the only reason that has any traction at all is due to the failure of the judiciary to address the constitutional and electoral controversies Trump raised.

Trump warned of the dangers of ballot harvesting, but his campaign wasn't ready on the ground or in the courts to tackle the issue when it presented itself. And he didn't help his case with his nonsense about having won the popular vote. In these respects, he is not blameless.

[...]

McConnell and most of the wiser anti-Trump elements in the Republican Party leaped back into their trenches and presumably will return to the comparative discretion most of them observed while Trump was president.

Those unable to contain their Trump-hate will bite the dust if they have to deal with a primary opponent — e.g., Sen. Lisa Murkowski, R-Alaska. Sens. Mitt Romney, R-Utah, Ben Sasse, R-Neb., and one or two others can grumble, but presumably even they realize that being useful idiots for the Democrats is not what they were sent to Washington to accomplish.

Trump's enemies are going to have to face the facts: They defeated him with a tainted election — assisted by the abdication of the judiciary from its constitutional status as a coequal branch of government with the executive and the legislature, and with a sandbag job from almost the entire media.

The attempt to hang Jan. 6, around his neck has been a complete fiasco, led, appropriately, by the director of the much-diminished FBI, Christopher Wray.

The dawning awareness that Trump or a candidate approved by him can only be kept out of the White House in 2024 will, on past form, lead his enemies to an even more frenzied assault. It won't fly.

This is an incompetent administration seriously mismanaging the most dubious mandate any president has ever had.
Gotta keep earning that pardon, eh, Conrad?
Posted by Terry K. at 2:03 PM EDT