Parler Is Back -- And The MRC Still Won't Tell You It Shares A Funder
Topic: Media Research Center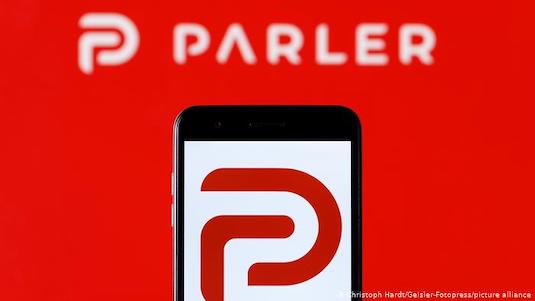 We've documented how the Media Research Center has aggressively promoted and deended the right-wing social media app Parler without telling its readers that its main funder, Rebekah Mercer, is also a major funder of the MRC. Now, Parler is trying to make a comeback after getting losing hosting and distribution following the Capitol riot -- some participants plotted the attempted insurrection on the app -- and the MRC is still hiding important information.
Because the MRC is hiding the basic information of shared funding, it must also hide behind-the-scenes turmoil at Parler. It had previously taken the side of current Parler management against co-founder John Matze, who had been ousted from the company in a power move by Mercer, in part because Matze wanted more robust moderation procedures and Mercer didn't.. Thus, the MRC will never tell you that Matze has sued Parler over his firing, claiming his 40 percent ownership stake in the company was stripped from him, and also noting that Mercer initially hid her involvement in Parler by using a holding company. Matze's lawsuit also claims that right-wing radio host Dan Bongino was brought in to Parler as a way to attract his right-wing followers to the platform -- but that Mercer has refused to do the paperwork to give Bongino the ownership stake he was promised (and claims he has).
That's not the only controversy. Parler's lawyers disclosed in a letter to a congressional committee that it wasn't the "free speech" platform the MRC insisted it was because it "has acted to remove incitement and threats of violence from its platform," the company worked with the FBI to investigate those violent threats.
But those facts don't matter -- and they certainly should not be spread around too much -- because the MRC has a bogus "censorship" narrative to push. Thus, we have dumb gotcha things like a March 24 post by Joseph Vazquez harrumphing that not only is the head of Amazon Web Services --where Parler was hosted until the fallout from the Capitol riot -- is in line to become Amazon CEO, his replacement at AWS had donated to Joe Biden's presidential campaign. "The fact that Amazon was willing to hire a blatant partisan to control its massive internet service apparatus is alarming given the Big Tech company's disgusting history of censoring conservatives," Vazquez huffed, even though he could not possibly link the new CEO's donation to Biden to Parler's removal from AWS.
The next day, Casey Ryan served up revisionist history while writing about tech CEOs testifying to a congressional committee. After the Google CEO noted that it removed apps from its Google Play store "for inciting violence," Ryan declared, "Google removed the free speech platform Parler from its app store after Trump's supporters began moving to the platform." Ryan then sounded like a Parler PR rep: "Up-and-coming free speech platform Parler gained greater exposure after social media giants, including Twitter, banned Trump. The free speech platform reportedly saw exponential growth following Big Tech's actions. Twitter's censorious moderation policies appeared to drive people away more than help attract new users."
After Apple CEO Tim Cook defended Parler's removal from its app store, Kayla Sargent tried to manufacture some outrage in an April 5 post:
Apple has, once again, reaffirmed its commitment to silence conservative voices and so-called "hate speech" on the company's platforms.

Apple CEO Tim Cook appeared on Sway, a podcast hosted by far-left Recode co-founder and New York Times contributor Kara Swisher. The two defended Apple's decision to remove Parler from its App Store and proceeded to at least operate under the pretense that Apple cares about privacy rights.

Cook called the App Store's removal of Parler "a straightforward decision, because they were not adhering to the guidelines of the App Store," according to the podcast transcript. Cook further specified: "You can't be inciting violence or allow people to incite violence. You can't allow hate speech and so forth. And they had moved from moderating to not being able to moderate."

Apple and Google both removed Parler from their app stores following the Jan. 6 riot at the U.S. Capitol. Amazon then booted the platform from its web hosting services in a move that temporarily shut down Parler's website.

Cook said that he wanted Parler to "put in the moderation that's required to be on the store and come back, because I think having more social networks out there is better than having less."

Neither Cook nor Swisher mentioned the fact that "[i]n court documents about the pro-Trump riots at the Capitol, Facebook is cited far more than any other social network,"according to Business Insider.
Sargent didn't mention the fact that Parler had been doing some moderation of content, even though it would have helped her case against Cook. Her claim that Facebook was cited more than Parler is just whataboutism to hide the fact that Parler was, in fact, used by rioters. Sargent also offered no evidence to back up her claim that Swisher is "far-left."
When Apple finally did allow Parler back into its app store, Sargent cheered on April 19 that it was "a win for free speech," then complained that "Apple still took the time to bash Parler when it could. Apple claimed that some posts on Parler 'encouraged violence, denigrated various ethnic groups, races and religions, glorified Nazism, and called for violence against specific people.' Apple also claimed that Parler's 'moderation practices were clearly inadequate to protect users from this harmful and dangerous content.'"Sargent didn't dispute the factual accuracy of those claims, just complained that they were made.
Sargent then tried to slip through an admission that Parler wasn't as "free speech-oriented" as advertised int he mddie oftaking another shot at Apple amid more Facebook whataboutism: "In a blatant act of hypocrisy, Apple banned Parler following the riot, but did not ban Facebook, despite the fact that Facebook reportedly played an outsized role in fueling the riot. Parler claimed that it had warned the FBI 'more than fifty times' before the riot."
In an April 23 post, Alexander Hall tried to reframe the moderation issue: It's not "censorshi" if Parler does it, and it's only censorship when Apple is forcing them to do it:
Parler Interim CEO Mark Meckler explained in an interview that Parler's app is returning to Apple's App Store on the condition it comply with the platform's rules. Mecklerr said that there will be alternate versions with different sets of rules.

Fox Business host Stuart Varney opened the interview with Meckler by inquiring: "I believe you've agreed to more aggressive patrolling of users' posts." Meckler "push[ed] back very strongly," claiming "we're actually not doing content moderation at all, Stuart." Meckler then admitted, however, that "what allowed us to get back on the App Store was that Apple requested that the version of the app … will have a particular kind of content censorship that is required by Apple."

Meckler illustrated further "[The app] will censor content that is aimed at peoples' inherent characteristics, immutable characteristics: race, gender, sexual orientation." Meckler went on to explain: "Apple doesn't think people should be able to see that kind of content."

Parler does not appear happy with Apple's requirements and has negotiated with the company to allow people to speak their minds freely. "We disagree vehemently," Meckler noted.

It appeared that Parler accessed outside the app, such as via computer or Android, would be entirely different: "If folks want to see that content, they'll still be able to go to Parler.com and look at their account there and see that content. If people want to see that kinda stuff, it's available on their Android app. But in order to get back on the App Store, Apple required that particular version of censorship on that particular app."
Hall didn't explain why Meckler would not be "happy" with having to moderate content that attack people for their "immutable characteristics," or why such content is apparently crucial to Parler's operations. Hall ultimately conceded, however, that Parler does "censor" some content:
Meckler explained that Parler, aside from its Apple-compliant version, does not censor content unless it breaks the law:

"Unless it is considered illegal, if it is actual incitement to violence, then it is considered illegal, and obviously, we would have lawyers look at that. Anything that's illegal is not welcome on Parler. If it's protected by the First Amendment, it's welcome on Parler, but we draw the line at illegal acts."
No mention, of course, of the moderation battles inside Parler, Matze's firing, his lawsuit or even the name Rebekah Mercer (or that she also funds the MRC).
Posted by Terry K. at 12:10 PM EDT