CNS Running Out Of Ways To Downplay COVID Deaths
Topic: CNSNews.com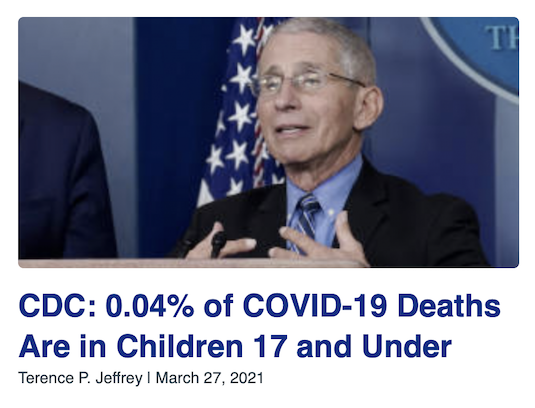 We've documented how CNSNews.com spent 2020 downplaying the number of deaths in the U.S. caused by coronavirus in an effort to boost President Trump. With Trump leaving office, CNS took a two-month break before briefly resuming death counts in February. vSusan Jones, the CNS reporter who was in charge of doing those body-count articles, hasn't done one since, however.
But the following month, editor Terry Jeffrey tried his hand at minimizing things, first serving up this bit of spin in his March 17 column:
American children 14 years and younger are more likely to be murdered than to die because of COVID-19, according to data published by the Centers for Disease Control and Prevention.

[...]

These 911 murdered children were not some abstract statistic. They were human beings — at the beginning of their lives. Had the major television networks and newspapers been inclined to treat this pandemic of child murder as a major story, they could have led with it every day — telling the stories of the young and innocent victims, revealing the facts about those who murdered them, and following the actions of the law enforcement officers and prosecutors responsible for bringing those murderers to justice.
It seems, though, that Jeffrey is treating children who died of COVID as abstract statistics and not human beings because there weren't enough of them for him to turn into a cause. Does he think that all of the nearly 600,000 U.S. deaths of all ages from COVID is an abstraction too?
Jeffrey did something similar in a March 27 "news" article:
Of the 526,028 deaths in the United States involving COVID-19, as officially reported by the Centers for Disease Control and Prevention, 238 have been in children 17 and younger.

That equals 0.04 percent of all COVID-19 deaths reported in the United States.
But Jeffrey gave up on that angle as well, with CNS choosing instead to do things like publish an April 21 rant by anti-vaxxer Michelle Malkin complaining that children "are being bombarded by an inescapable public relations campaign by all the Bigs — Big Pharma, Big Government, and Big Tech — to brainwash them about the COVID vaccine," adding, "While children under 18 remain at the lowest risk of COVID-19, peer pressure to get the experimental jabs is enormous."
Posted by Terry K. at 12:27 AM EDT
Updated: Tuesday, May 25, 2021 12:34 AM EDT