MRC Whines That Oscars Talked Too Much About Black People
Topic: Media Research Center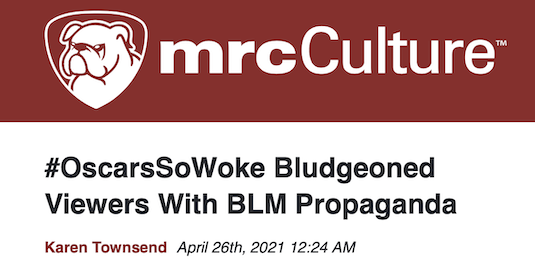 One of the things the Media Research Center pays its employees to do is to spew hate at Hollywood and the Oscars in particular, seemingly because the best films never star right-wing actors like Kevin Sorbo or Kirk Cameron. Needless to say, it predictably hated this year's Academy Awards.
Lindsay Kornick kicked off the hate by complaining that presenters and others talked about black people:
Even in a pandemic, we can always count on The Oscars. Or rather, we can always count on The Oscars to give us a night of insufferable political preaching. And Sunday night's ceremony delivered political rantings in record time.

The 93rd Annual Academy Awards kicked things off with actor/director Regina King, representing her film One Night in Miami. She was there to introduce the nominations for Best Original Screenplay, but in true Oscar fashion, she started by bringing up the George Floyd murder trial and protests in Minneapolis. She even lectured viewers who loathe Hollywood preaching, claiming, "As a mother of a black son," she needed to speak.

[...]

Lecturing the audience still willing to put up with your nonsense is not going to win you any more viewers, ABC, no matter what the Los Angeles Times tells you. Between that and Regina King's further attempts to explain away Hollywood's hypocrisy for not wearing masks while the cameras are on, the show was already faker than the movies.
Elise Ehrard continued the whining over black people being talked about, lashing out at a dorector for saying that "Today, the police will kill three people":
This year's Academy Awards show was an unwatchable train wreck of BLM& virtue-signaling and bad lighting. A freshman film student could have produced a better show than this mess.

The shout-outs to BLM reached peak cringe during the acceptance speech of Travon Free. Free shared an Oscar for Best Live Action Short Film with co-director Martin Desmond Roe, for the Netflix film Two Distant Strangers. Two Distant Strangers is about a young black man murdered by police.

[...]

So, we must repeat once again, for the people in the back: The Washington Post's own database of fatal police shootings lists only 14 unarmed Black victims and 25 unarmed white victims in 2019. In 2020, 1,021 people were shot and killed by police but only 55 of them were judged by The Washington Post to be unarmed, so 95% were armed and a threat to others. While any death is a tragedy, there is no epidemic of cops killing unarmed victims. It is manufactured outrage designed to fill up left-wing activist coffers and promote racial division.
But Free didn't specify that unarmed people were killed by police, and even Ehrhard's own numbers back up Free's point that black people are disproportionately shot by police. And isn't Ehrhard also trying to stir up racial division for the purpoise of filling up the MRC's coffers?
Karen Townsend perpetuated the tone:
From the beginning until the end, the 93rd Annual Academy Awards was loaded with Black Lives Matter wokeism. Airing on ABC on Sunday night, the show began with self-described "preaching" from actress/director Regina King on the Chauvin trial in Minneapolis and the dangers faced by black men.

The tone was set and the show was none the better for it. It was an unusual set up for the Oscars this year, with no host, and a non-theater location. There were none of the traditional time constraints for acceptance speeches, no music suddenly beginning as a cue for the winner to wrap it up, little to no movie clips - the pacing and production quality were shockingly bad for Hollywood.

Presenter and actress Laura Dern was insufferable to endure. She spoke slowly and added her own twist to introducing nominees for Best Supporting Actor, saying, "Each of these five artists presented us with themes of equity and social justice in their own unique and extraordinary ways." She personalized the introductions as though she was the center of attention. It was awkward to watch.

[...]

To say that this awards ceremony was boring is an understatement. It is no wonder that ratings have been so bad for these shows – who wants to turn in and listen to Hollywood one-percenters scold their audience about the hardships presented because of social injustices? The pandemic has shown us that the entertainment industry has forgotten how to entertain us. The movies up for awards were all filled with messages, not entertainment. The industry is more focused on social activism, not entertaining their consumers.
Gabriel Hays kept up the MRC's race-obsessed coverage by unironically accusing the Oscars of being race-obsessed:
Oh, it's Oscar season, baby, and once again that means fixating on all the political things Hollywood wants to talk about rather than actual movies. In the year of the pandemic, big Hollywood movies seemed hardly relevant, but our moral betters in Tinsel Town weren't going to pass up a chance to lecture us.

The Oscars awards show was a parade of diversity -- the hollow kind the left specializes in. And the media lapped it up. The Hollywood Reporterw as so impressed with its industry's commitment to minimizing whiteness in Hollywood that it put out a little scorecard on just how many different races were awarded.

So much for not making race a thing.
Hays followed up by cheering the lower-than-usual ratings for the Oscars:
Sure, you may feel annoyed about all the woke, self-righteous stuff Hollywood actors have directed at conservatives during the Academy Awards, but the silver lining is that they're only hurting themselves.

According to Nielsen ratings – as reported by The Hollywood Reporter – April 25's 93rd Annual Academy Awards was the worst rated in the awards show's history. Even worse, this year's Oscars ratings were literally twice as bad as last year's, and that one had previously ranked as the worst in Oscars history.

Yikes.
Hays unsurprisingly buried the actual reason: theaters have been closed for much of the past yer due to the pandemic. But that truth is inconvenient for Hays, so he made sure to steer the story back to the MRC's narrative: "We can't rule out the fact that these awards shows are also losing ratings due to them getting even more political with each consecutive year. "

Posted by Terry K. at 9:16 PM EDT