CNS Complained About Slow U.S. Sanctions Against Russia -- But Barely Reported On Them When They Happened
Topic: CNSNews.com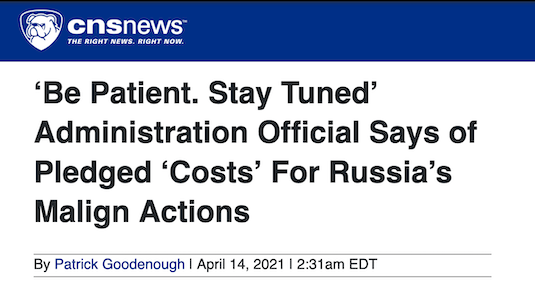 CNSNews.com's coverage of Russia has become oddly anti-American under President Biden. Patrick Goodenough served up another example, complaiing in an April 14 article:
The Biden administration has been pledging "costs" and "consequences" for malign Russian behavior for several months but at a time when a large troop buildup on Ukraine's borders has sent tensions soaring, a senior State Department official on Tuesday called for patience, while suggesting that steps may be coming soon.

"Be patient," the official told reporters accompanying Secretary of State Antony Blinken on a visit to Brussels dominated by the crisis. "Stay tuned."

On the day of President Biden's inauguration the White House announced that he had tasked the intelligence community to carry out a review of Russian actions including hacking, election interference, the attempted assassination of dissidents, and allegations of bounties offered on the lives of U.S. troops in Afghanistan.

Since then administration officials have repeatedly cited the review, asserting that there will be consequences for Moscow's damaging actions.
The Biden administration announced sanctions against Russia the very next day -- but Goodenough did not see fit to devote a story to that. Instead, it was given only passing mention in an article in which the headline was that the administration admitted "low to moderate confidence" in a claim that Russia had offered terrorists bounties to kill U.S. troops in Afghanistan which "Joe Biden repeatedly flayed President Trump over the allegations" during the presidential campaign, hyping how "White House press secretary Jen Psaki on Thursday dodged a question on whether the president now regrets that." OF course, Goodenough didn't mention others have pointed out that "low to moderate confidence" in the story does not necessarily mean it was false, and paying bounties to kill U.S. soldiers is not exactly out of character for Putin's Russia.
In between, Goodenough wrote an article featuring how "Russia is "working actively" to move away from the U.S. dollar and Western payment systems, Foreign Minister Sergei Lavrov said during a visit to Iran this week" -- thus implicitly blaming Biden for the situation. But later in the artiucle, he admitted that "Russia has been pivoting away the dollar since 2014, when the U.S. and many European governments targeted senior Russian officials and sectors of the Russian economy for sanctions in response to Moscow's annexation of Crimea and support for separatists in eastern Ukraine," while also adding that "some economists have argued in recent years that Washington's sanctions policies could weaken the dollar's global leadership in the long run."
That's some severe anti-Biden bias happening at the MRC.
Posted by Terry K. at 5:49 PM EDT
Updated: Monday, May 17, 2021 5:51 PM EDT