CNS Attacks GOP Governor Who Refused To Hate Transgender People
Topic: CNSNews.com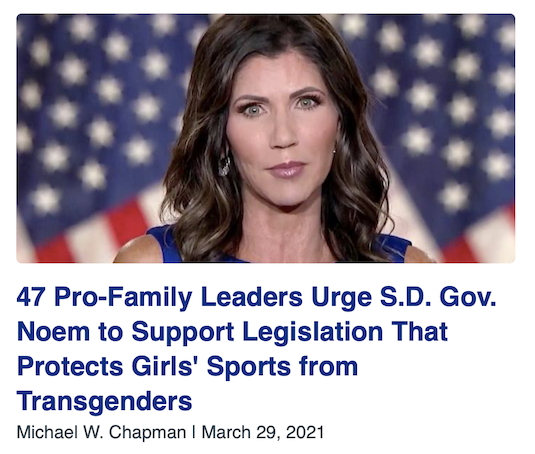 CNSNews.com used to love Republican South Dakota Gov. Kristi Noem. It touted her call to let the presidential election process play out, defended her from an article about the death of her grandmother, cheered her calls for additional abortion restrictions and happily promoted her call not to shame people who won't wear masks.
But she refused to hate transgender people to the extent right-wingers demand these days, and that got her in trouble with CNS.
It started according to the right-wing script, with a March 12 article by Emma Riley puffing Noem for declaring that "she was 'excited' to sign into law a bill that would prohibit transgender females (biological males) from participating in real women's sports in the state's public schools, its school districts, and in its colleges," much like CNS has done with similar anti-trans laws in other states.Craig Bannister added a March 19 bit of puffery on Noem stating that "Women tend to 'take a step back"' and question their abilities more than men, and they need to address that instinct."
But Noem ultimately decided that the anti-trans bill went too far and vetoed parts of it -- and that set off CNS' rage, initially in the form of a March 22 article by Michael W. Chapman:
Although South Dakota GOP Gov. Kristi Noem, who promotes herself as a firebrand conservative, strongly implied she would sign legislation barring transgender "females" (biological males) from participating in real girls' sports -- and using their bathrooms, locker rooms and showers -- she delayed last week, did not sign the bill, and now wants changes that would essentially gut the legislation, according to the Alliance Defending Freedom (ADF).

The bill, H.B. 1217, was passed overwhelmingly by the South Dakota House and Senate, and Noem tweeted on Mar. 8, "In South Dakota, we're celebrating #InternationalWomensDay by defending women's sports! I'm excited to sign this bill very soon."

Everyone expected the apparently conservative Noem to quickly sign the legislation into law. But she delayed, and then last week it was learned that Noem was going to use her "style and form" veto power to partially gut the Fairness in Women's Sports bill.

"Gov. Noem had an opportunity to protect women and girls by signing the Fairness in Women's Sports bill, but instead she pandered to the demands of special interests," said the ADF in a statement. "In what was an abuse of her 'style and form' veto power, she gutted protections for collegiate athletes and took away legal recourse for girls forced to compete against biological boys."

"We are shocked that a governor who claims to be a firebrand conservative with a rising national profile would cave to 'woke' corporate ideology," said the legal group.

"The governor tried to explain her betrayal with claims that her hands were tied by NCAA policy," reads the statement.
This was followed the next day with an op-ed by the Family Research Council's Tony Perkins going all "Mean Girls" on Noem, as summarized in the headline: "If Noem Doesn't Stand Up to the Left on Girls' Sports, She Can Forget About Being the Right's Rising Star." Apparently, hating transgender people is now a core Republican policy plank.
Chapman returned on March 29 with a list of "47 pro-family, conservative organizations" -- read: right-wing anti-trans activists -- who are mad she vetoed the bill.
On March 30, Chapman parroted another attack on Noem from ADF; after she pointed out that she was being the target of right-wing cancel culture for vetoing tyhe bill, the ADF huffed in response that "criticizing Gov. Noem for caving to woke corporations is not cancel culture. It's accountability." CNS and its Media Research Center parent believe that only liberals engage in "cancel culture "and that even when right-wingers do the same thing, you can't call it that.
When Noem issued executive orders restricting transgender participation on sports teams -- thus accomplishing a good portion of what the law would have done -- CNS didn't even see fit to do a story on it, even though it played a role in bullying her into it.
Because Noem refused to fully hate transgender athletes to the extent that right-wing activists demand, CNS is apparently now denying her any sort of positive coverage. They must be a bunch of Mean Girls too.
Posted by Terry K. at 12:38 AM EDT
Updated: Tuesday, April 27, 2021 9:58 PM EDT