In January, CNS Set The Stage For Attacking Biden on Immigration
Topic: CNSNews.com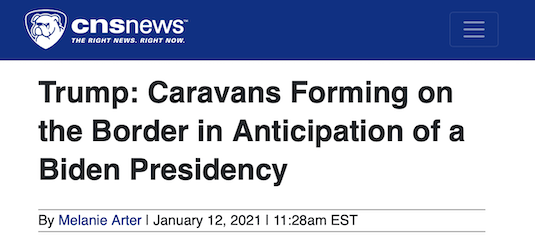 CNSNews.com, like other right-wing media outlets, has been getting a lot of Biden-bashing mileage out of issues with immigrants at the Mexican border. But CNS primed readers to blame Biden for increased numbers of immigrants trying to cross the border even before he became president.
Back on Jan. 12, Melanie Arter touted how "President Donald [Trump] warned Tuesday that caravans of illegal immigrants are forming on the southern border, in anticipation of Joe Biden's presidency and what's in it for them, but the Trump administration is able to stop it."More examples from January:
In short: CNS was always going to attack Biden on immigration no matter what is happening now. It telegraphed that nearly three months ago.
Posted by Terry K. at 4:43 PM EDT