WND Misleads On Biden And Dr. Seuss
Topic: WorldNetDaily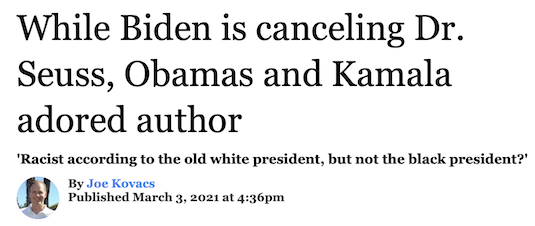 Joe Kovacs huffed in a March 3 WorldNetDaily "news" article:
While Dr. Seuss is being summarily canceled by the Joe Biden White House for allegedly having "racial undertones," previous Democrats in the Oval Office adored and celebrated the popular children's author, with Barack and Michelle Obama hosting reading events with kids dressing up as characters from the books.

The Biden administration recently stripped Dr. Seuss' name from Read Across America Day, but back in 2015, then-President Obama told White House interns that "pretty much all the stuff you need to know is in Dr. Seuss."
In fact, Biden did not "cancel" or "strip" Dr. Seuss from Read Across America Day. As we've pointed out, the contract giving Dr. Seuss exclusivity to Read Across America Day ended a few years ago, and the day has since focused on adding more diverse children's books.
And we thought WND actually cared these days about getting facts straight.
Posted by Terry K. at 2:02 PM EDT