CNS Keeps Disrespecting LGBT Politicians
Topic: CNSNews.com
It's no secret that CNSNews.com hates LGBT people in general and LGBT politicians even more -- just look at the treatment it gave to Pete Buttigieg. Even when Buttigieg was nominated by President Biden as transportation secretary, CNS continued to obsess over his sexual orientation, illustrating articles about the nomination with photos of him kissing his husband in an apparent attempt to squick out its right-wing, homophobic readership.
CNS pulled that disrespectful trick once again in a Feb. 22 article in which an anonymous CNS reporter noted that Buttigieg "has tweeted out a video of himself having an exchange with a person about the basic philosophy he brings to transportation in the United States." The original headline rad "Trans Secretary Pete Explains: 'What About Bikes, Scooters, Wheelchairs...Roads Aren't Only for Vehicles'" -- seemingly suggesting that Buttigieg was somehow transgender, whcih CNS hates even more than being gay -- and accompanied the article with, yes, a photo of Buttigieg and his husband kissing: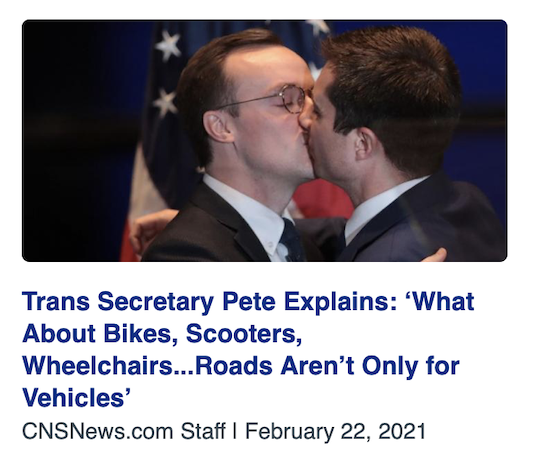 CNS later changed the headline, swapping out "Trans Secretary Pete" for the more conventional "Transportation Secretary Buttigieg" and replaced the irrelevant kissing photo with a more normal stock shot of Buttigieg.
But that's not the only recent example of CNS disrespecting an LGBT politician. An anonymously written March 1 article focused on Democratic Rep. Sean Patrick Maloney defending the Equity Act, asserting that the law "would force schools in the United States to let biological males play on girls' sports teams and use their locker rooms, restrooms and dressing rooms" as if it was the only thing the llaw would do, and also pointing out out that Maloney "is in a same-sex marriage." The headline CNS put on his article? "Congressman Married to Other Man on Equality Act Opponents: 'They Believe LGBT People Are Morally Inferior'."
Yes, that's a picture of Maloney with his husband.
CNS is apparently proud enough of this slight that it remains the article. CNS also doesn't dispute Malone's contention that Equality Act opponents belive that LGBT people are "morally inferior" and that "their beliefs demand existing discrimination against LGBT people be allowed" -- perhaps because it's indisputably true.
Posted by Terry K. at 10:49 AM EST
Updated: Sunday, March 14, 2021 10:52 AM EST