MRC Writer Misunderstands The Lessons Of The Chicago 7
Topic: Media Research Center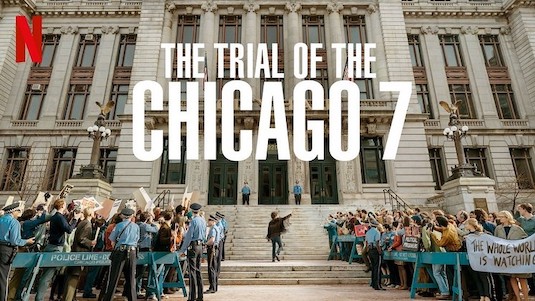 The Media Research Center's Kyle Drennen complained in a Feb. 12 post:
In just another example of blatant media hypocrisy, on NBC's 3rd Hour Today show Friday, co-host Al Roker enthusiastically talked to the cast of the Netflix film The Trial of the Chicago 7, which lionizes the far-left radicals who incited the violent 1968 riot at the Democratic National Convention. Amazingly, the deadly January 6 Capitol Hill riot never came up in the discussion, even as the '68 Chicago rioters were given glowing labels like "iconic" and "hero."

[...]

Apparently NBC failed to see the irony of promoting a movie celebrating the inciters of a violent riot in between it's coverage of a Senate impeachment trial accusing former President Trump of inciting a violent riot.
Drennen clearly doesn't know his history. Otherwise, he would be aware that none of the Chicago 7 were ultimately convicted of inciting a riot. The protesters had planned a nonviolent protest against the Vietnam War, but the violence outside the convention was actually instigated by the police determined to make a show of force by violently cracking down on them, and the arrests of the leaders and the resulting trial were pushed by federal prosecutors under Richard Nixon determined to make an example of anti-war protesters.
In 1968, it was the police who created the riot and authorities tried to railroad protesters who would have been peaceful if not for the brutal police crackdown. On Jan. 6, it was the MRC's preferred president, Donald Trump, who incited thousands of protesters to storm and desecrate the Capitol. So, no, not the same at all. No irony here.
Posted by Terry K. at 12:46 AM EST
Updated: Saturday, March 13, 2021 12:55 AM EST