WND's Farah Recycles A Column
Topic: WorldNetDaily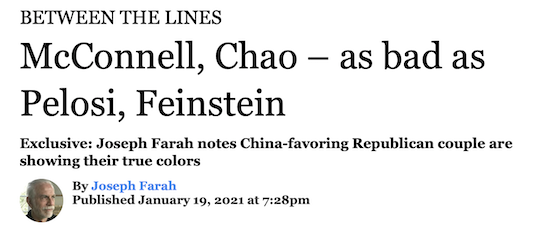 WorldNetDaily editor Josephy Farah devoted his Jan. 19 column to ranting about Senate Republican Leader Mitch McConnel and his wife, former Trump transportation secretary Elaine Chao. He complained that "McConnell congratulated Joe Biden for being president-elect on Dec. 15, while President Trump was still trying to 'Stop the Steal,'" while bashing Chao's "ties to Chinese business" and her father, who allegedly "had a cozy relationship with then-Communist Party leader Jiang Zemin and owned a shipping company that does business with the Chinese government." He concluded, "While we're working on cleaning out the dead-wood RINOs like Rep. Liz Cheney, we had better take a long look at Mitch and Elaine too."
If Farah's Feb. 17 column resulted in a sense of deja vu, there's a reason -- it's mostly the exact same column, right down to the headline. Without telling readers, Farah recycled the column.
The main difference is that he appended Donald Trump's petulant attack on McConnell in its apparent entirety, then added a few lines perpetuating the Big Lie about election fraud:
Let's remember, Donald J. Trump got more votes than any other president – including Biden!

He's going to get even more if the next presidential election is not rigged.

Mitch McConnell doesn't have a future in the Republican Party. We're tired of being the party of good losers.
Farah is the guy who spearheaded WND's years-long birther lie against Barack Obama, so we already know he's a sore loser. Apparently, election fraud is the new birtherism (which, in turn, was the new Vince Foster).
Posted by Terry K. at 5:28 PM EST