MRC's Bozell Justifies Capitol Violence, STILL Clings To His Election Fraud Conspiracy Theory
Topic: Media Research Center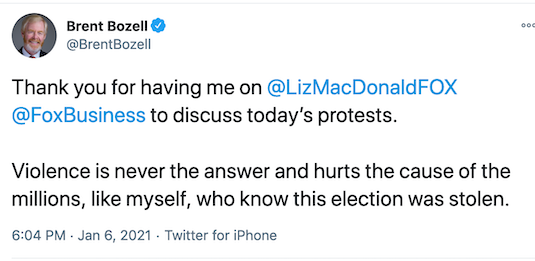 Media Research Center chief Brent Bozell is as shameless as he is dishonest.
Bozell made an appearance on Fox Business Wednesday to justify -- yes, justify -- the violent insurrection at the Capitol earlier in the day: "This is an explosion of pent-up outrage from Middle America. Look, they are furious that they believe this election was stolen. I agree with them. They are furious that with the Deep State, they believe Washington is utterly corrupt, and they've had it. I agree with them. They are furious with Antifa and the rampaging in the streets and the lawlessness ,and one cop every single week is being shot to death -- think about that one for a second -- and I agree. They are furious with the vast censorship of free speech that's taking place. So the fury was there."
Then, he pivoted away, trying to minimize the violence as done by a small group of actors: "Unfortunately, it was controlled fury with the vast majority, and one element went forward with lawlessness, and it has done tremendous damage to everyone else." Remember that Bozell's MRC loves to mock commentators who said the same thing about the summer's racial justice protests. He then went the whataboutism route, caying that critics of the violence have "damn well better have criticized Antifa for the last year and Black Lives Matter for their lawlessness, their destruction of property, their killing of people. If they have done that they have every right to be critical. If they have not done that, let those people who have been reasonable and have been objective in this, let them speak out."
Bozell also reiterating that he agrees with those who claim the election was stolen and effectively justifed the violence, betraying his own words.He then ranted: "It's hundreds -- it's millions, tens of millions of people -- it's 40 percent of the American people believe this stolen. This is not a handful of people."
But Bozell has spread lies and misinformation about the election and fed thsi false story that these people believe. As we documented, Bozell asserted without evidence that pre-election polls showing Biden with a big lead over Trump were "deliberately wildly wrong," and he hired right-wing pollsters -- one of whom actually worked for the Trump campaign -- to push his conspiracy theory that the media stole the election from Trump.
Bozell then explained he really cared about what the violence will do to the conservative movement and again complained: "I am heartsick about that element that has been so destructive and has done so much damage to a very noble cause, but the damage they have done to conservatives like me is profound. ... No one's going to look at pictures of the whatever, the 900,000 that didn't participate in this, who were there marching peacefully. No one's going to look at that. No one ever looks at marches by conservatives that are peaceful -- the right-to-life march every single year, the Tea Party marches where they pick up their own wrappers. They've never gotten credit for this. So one's going to look at the overwhelming majority that were peaceful. They're going to look at the bad guys."
He concluded by declaring, "I hope there is a through investigation. My guess is when all this is over you're going to find that there were some bad guys on the other side who were also participating. It's just a hunch."Bozell was silent about President Trump -- whom his MRC has been dedicated to defending in an unquestioning manner over the past four years -- or his role in instigating the violence.
After his TV gig, he went on Twitter to thank the host, adding: "Violence is never the answer and hurts the cause of the millions, like myself, who know this election was stolen." Bozell will never admit that when you lie to people the way he has, violence is inevitable -- and he's got blood on his hands for encouraging it.
Posted by Terry K. at 6:44 PM EST
Updated: Thursday, January 7, 2021 6:53 PM EST