In The Tank: CNS Promoted Frivolous Pro-Trump Texas Election Lawsuit
Topic: CNSNews.com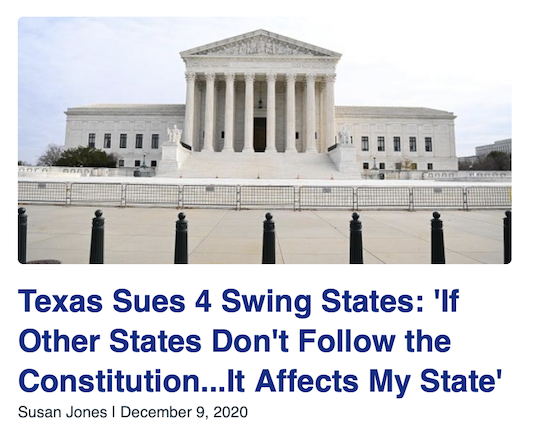 The fact that all of President Trump's legal efforts to overturn an election he lost have failed in court has not stopped CNSNews.com from uncritically promoting them. The attempt by the state of Texas to interfere in the elections of other states through a lawsuit it brought straight to the Supreme Court was no exception.
A Dec. 9 article by Susan Jones uncritically repeated Texas Attorney General Ken Paxton touting the lawsuit on Fox News. Two days later, another article by Jones admitted that Paxton faced "blistering criticism" for filing the lawsuit and actually detailed the responses from the states being sued -- but led off with Paxton delcaring (on Fox News, of course) that "we ought to have the chance to be heard at least once."
After the Supreme Court swiftly rejected the lawsuit, CNS didn't do a story on it. instead, two days later, Jones rehashed a Fox Business appearance by Paxton lamenting that "I don't know what else we could have done, other than ask the court to at least hear our arguments." Details on what the Supreme Court said in rejecting the lawsuit were buried in an unbylined article that cited Nancy Pelosi describing the lawsuit as an example of how "Republicans are engaged in an election subversion that imperils our democracy." That was followed by an stenography piece by Melanie Arter in which she detailed Trump's ranting that "it's not over" despite the court's swift rejection of the Texas lawsuit.
CNS also published a Dec. 14 op-ed by Zack Smith of the right-wing Heritage Foundation claiming the Texas lawsuit raised "serious issues regarding election integrity and constitutional law that ought to be addressed going forward."
CNS was pushing Trump's narrative elsewhere as well. In a Dec. 14 article, Jones touted how Republican Rep. Jim Jordan demanded that Congress debate the presidential vote on Jan. 6, the day when it is supposed to sign off on the election. But even Jones conceded the Republicans' effort at obstruction would be doomed: "A simple majority vote in both the Senate and the House is required for any objection to a state's electoral results to stand. Because the House is controlled by Democrats, that certainly would not happen."
Even the Electoral College officially declaring Biden the winner couldn't be reported straight. Jones dismissed Biden's speech after the Electoral College vote as "an attempt to bolster his legitimacy as the next president," then complained: "Biden repeated that he will be president 'for all Americans,' many of whom remain bitter about the expansion of ripe-for-fraud mail-in voting; affidavits alleging vote fraud; changes in voting laws made not by state legislatures but by election officials; and vote tallying that was shielded from view -- or conducted in the absence -- of election observers." (The article was originally headlined "Biden, Voice Hoarse, Praises 'Honest,' 'Free' & 'Fair' Election, 'Integrity' of Election Workers.")
An anonymously written article was devoted to Senate Majority Leader Mitch McConnell lamely conceding that "the Electoral College has spoken." Craig Bannister huffed: "Hillary Clinton, who lost the 2016 presidential election despite winning the popular vote, cast an electoral vote for Joe Biden on Tuesday – then, called for abolition of the Electoral College, which cost her the presidency."
Melanie Arter uncritically wrote about how Ken Blackwell, initially identifed only as "former Ohio Secretary of State," insisted that "the clock didn't stop" with the Electoral College vote; it wasn't until the fourth paragraph that she noted that Blackwell is "a Trump elector."She didn't mention at all that Blackwell was a Trump campaign surrogate who also served in Trump White House posts, which meshes with CNS' overall lack of disclosure when it publishes Blackwell's pro-Trump columns.
Posted by Terry K. at 12:35 AM EST
Updated: Wednesday, December 23, 2020 7:00 PM EST