Trump Didn't 'Smash The Left,' Though Newsmax Gave Horowitz's Book One Last Spin
Topic: Newsmax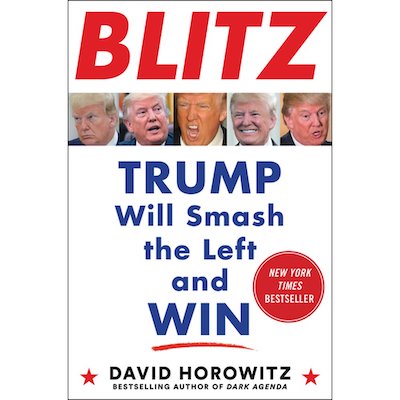 Throughout 2020, Newsmax has heavily promoted a book it published through its Humanix division by right-wing activist David Horowitz, called "Blitz: Trump Will Smash the Left And Win" (while not telling readers that it published the book). But as one reviewer noted, the book didn't actually predict Trump would win re-election, but mostly attacks Democrats.
Well, the election showed that Trump didn't "smash the left" -- he lost (his claims to the contrary notwithstanding). Two days arter the election, Newsmax sent out an email promotion for the book purportedly written by Horowitz. Not only did it lop off the book's subtitle (since that turned out to be disproven by the election results), it's mostly a rant against Fox News for 1) calling Arizona for Trump, and 2) failing to have him on to promote "Blitz," and 3) give an early endorsement of Trump's still-unproven claims the election was stolen from him (overenthusiastic bolding in original):
Fox News, again, refused to call Florida for most of the night . . .

Despite the fact it was clearly won by Trump and other networks like Newsmax and CNN had called Florida for Trump!

Meanwhile, with just 14% of the ballots counted in Arizona, and people still waiting in line in some places to vote, Fox
called Arizona for Biden.

Clearly, Fox has gone AWOL.

The first warning sign apparent to me was BLITZ.

In past years, I was always on Fox. Every book I did was touted by Fox — EXCEPT BLITZ.

Why?

BLITZ exposed George Soros and the billionaires out to stop Trump.

I named names.

It was clear to me Fox wanted to stop Trump.

They even "confirmed" phony claims Trump called our troops "suckers and losers" — and every step of the way tried to belittle him.

Despite Fox's ban on me and BLITZ, it's been 10 weeks on the New York Times bestseller list . . . #1 on Amazon.

[...]

Whether or not the big media and the Democrats in states like Pennsylvania allow a fair vote and Donald Trump becomes president again, you still need to get BLITZ.

It exposes the whole fraud of the left, the media, and the Washington swamp insiders.

These will be the people President Trump will have to fight — or the same people who will back up "President Biden" — God forbid!

Folks, I can't tell you how shocked I am that this election is being stolen from President Trump.
Except, of course, it is not, as the continued lack of substantiated evidence continues to show. It's worth noting, however, that this is the last email promotion of the book Newsmax sent out, meaning that it's effectively dead.
Posted by Terry K. at 3:26 PM EST