How CNS Spun Coronavirus For Trump Before The Election
Topic: CNSNews.com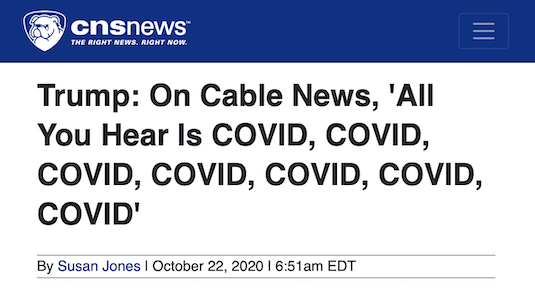 As the presidential election drew closer in late October, CNSNews.com's Susan Jones -- who has been working for months to spin coronavirus infection and death rates to make President Trump look good -- seriously ramped up that pro-Trump spin by comparing numbers to the initial surge in April.
Jones served up more pro-Trump stenography in an Oct. 22 article headlined "Trump: On Cable News, 'All You Hear Is COVID, COVID, COVID, COVID, COVID, COVID, COVID'." After uncritically transcribing a rant from Trump, she added, "As CNSNews.com reported, the number of COVID cases is accelerating, but with better treatments available, the death count,based on death certificates submitted to the Centers for Disease Control and Prevention, resumed" -- then strangely cut off. Either that was an editing error, or oerhaps Jones herself was getting bored with spinning so hard.
An Oct. 27 "news" article by Jones was even more aggressively serving as a Trump campaign press release:
"The Fake News Media is riding COVID, COVID, COVID, all the way to the Election. Losers!" President Donald Trump tweeted on Monday.

But the latest data from the Centers for Disease Control and Preventionshow that the number of people dying from COVID-19 in the United States dropped approximately 73 percent from its peak in the week that ended April 18 to the week that ended on September 5 (the latest week for which the CDC has relatively complete numbers).

Certainly, many partisan activists holding anchor/reporter jobs at CNN and MSNBC, to name a few liberal outlets, are hyping what they dub a second coronavirus surge.

According to CNN's "New Day" on Tuesday morning: "Twelve states are seeing record hospitalizations. Five states reporting a record increase in new cases. The U.S. is now averaging nearly 70,000 new cases a day."

But liberal media outlets omit the fact that deaths from coronavirus are not rising exponentially -- they're falling. In fact, weekly COVID deaths have never again come close to the record 17,077 deaths recorded in the week ending April 18, which was six months ago.

Deaths from COVID, as recorded by death certificates filed with the federal Centers for Disease Control and Prevention, have been falling since a second peak in the week ending August 1, based on preliminary data.

[...]

Rounding out the top ten for COVID deaths are Texas (17,660); California (16,483); Florida (15,948); New Jersey (14,494); Pennsylvania (8,796); Illinois (8,357); Massachusetts (8,169); Georgia (6,670); and Michigan (6,518).

At least four of those states are mentioned as swing states in next week's election, which explains the liberal media's focus on the pandemic and the effort to blame Trump for mismanaging it.

President Trump says cases are up "because we TEST, TEST, TEST. A Fake News Media Conspiracy," he tweeted on Monday. "Many young people who heal very fast. 99.9%. Corrupt Media conspiracy at all time high. On November 4th, topic will totally change. VOTE!"

On Tuesday morning, Trump tweeted: "Until November 4th., Fake News Media is going full on Covid, Covid, Covid. We are rounding the turn. 99.9%."
Jones got in one final bit of pro-Trump spin in a Nov. 3 article, the day of the election:
COVID-involved deaths in recent weeks are well below the numbers recorded this past summer, based on death certificates submitted to the National Center for Health Statistics, which is part of the federal Centers for Disease Control and Prevention.

For the week ending September 26, 3,809 COVID-involved deaths were reported to NCHS on a preliminary basis.

That is 30.31 percent below the 5,466 COVID deaths recorded in the week ending August 29; 53.01 percent below the 8,106 deaths recorded in the week ending July 25; roughly equivalent to the 3,791 deaths reported for the week ending June 27; 37.76 percent below the 6,120 deaths recorded in the week ending May 30; and 77.70 percent below the record 17,082 COVID deaths recorded for the week ending April 18.

Since mid-April, COVID-involved deaths have mostly trended down, with brief exceptions in early July and possibly in early October.
Jones managed to avoid mentioning Trump's name in the article, but there was no doubt for whose benefit she wrote it. And she waited until the final paragraph to note information that contradicted her spin: "CDC says cases are spiking in many states -- particularly in the upper West/Midwest (Montana, Wyoming, Nebraska, North and South Dakota, Iowa, Wisconsin) and in Rhode Island."
Meanwhile, an anonymously written Oct. 14 CNS article served up its own very familiar pro-Trump and anti-media spin: "While the liberal media are doing all they can to try to discredit Dr. Scott Atlas, M.D., a special adviser to President Donald Trump and a member of the White House Coronavirus Task Force, he has released five simple facts about COVID-19 to lucidly explain 'what the science tells us about this virus.'" CNS didn't say when this email was sent or to whom, though it did uncritically transcribe the email. Nor did CNS mention the fact a couple weeks earlier, CDC leader Dr. Robert Redfield expressed concern that Atlas was misinforming the public on a variety of cornavirus-related issues. For instance, Atlas stated in his email that "Children and Young Adults Are at Extremely Low Risk for Serious Illness or Death from COVID-19," while Redfield pointed out that one-fourth of new infections were among young adults ages 18 to 25.
Posted by Terry K. at 11:40 AM EST
Updated: Sunday, December 6, 2020 2:32 PM EST