Sore Losers: MRC Is Bitter About Trump's Loss
Topic: Media Research Center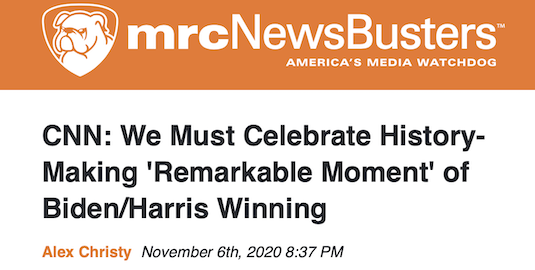 The Media Research Center has not taken Donald Trump's election loss well as Joe Biden's victory became more apparent. That bitterness was demonstrated in a Nov. 6 post by Alex Christy in which he lashed out at CNN for acknowledging Joe Biden's win:
With Joe Biden on the verge of being declared the winner of the 2020 presidential election, CNN's Friday afternoon coverage took the time to insist that all Americans should celebrate the historic glass-shattering moment of Kamala Harris becoming vice president. In addition, one of their elitist, leftist partisans informed us that we must also subscribe to the electoral conclusion that Biden has a mandate while ignoring the Democratic Party's horrid performance in House and Senate races.
The same day, Nicholas Fondacaro huffed in defiance of reality (and Trump's mutual defiance of same): "As the ballot counting dragged on Thursday in key states around the country and President Trump continued to fight for a second term, the partisan "journalists" at NBC News had grown obviously irritated that they couldn't declare their candidate the winner. At no time was this more blatant than their primetime coverage when they demanded Trump be 'conciliatory' and handle his concession like former Vice President Al Gore did in 2000." Fondacaro went on to call the request that Trump concede "ridiculous" -- a description in itself has become more ridiculous as Biden has expanded his lead over Trump by, as of now, more than 6 million votes, which contradicts Norris'
Fondacaro served up more bitterness: "The Sunday after Democratic nominee Joe Biden was declared the apparent president-elect, ABC's Good Morning America was working really hard for their nominee. While ignoring Biden's history of demonizing his opponents, they celebrated him as a great uniter that would end the rancor. They also trotted out Cindy McCain to urge the current president to concede to her nominee."
Curtis Houck added:
Despite the fact that it was not a victory speech as news outlets had yet to declare him the 46th President, CNN reacted Friday night with nothing but admiration for Joe Biden, calling their candidate's remarks a "big," "optimistic," "presidential," and "soaring" speech "about America" that "applauded democracy."

This all stood in stark contrast to their collective meltdown over President Trump's Thursday night remarks, which were widely condemned by figures such as CNN senior political commentator and former Senator Rick Santorum and Fox News Channel host Bret Baier and Martha MacCallum (and with a level of sobriety most Zuckerville residents lack).
Houck linked back to a earlier post he did on CNN's response that, in fact, made no mention of Baier's and MacCallum's response to Trump's speech. Perhaps he, as NewsBusters managing editor, can look into that reporting gap and detail that "level of sobriety" for us.
The MRC was also embittered by the idea that Biden did well enough to have a mandate from the American people or that Trump was in any way repudiated:
Joseph Norris whined that "Despite the razor-thin election results, CNN is still trying to promote the fake news narrative that Tuesday's election was a "huge rejection" of President Trump.

" Again: A 6-million-vote lead is not "razor-thin."

Brad Wilmouth complained that one commentator "insisted Democrats have a 'mandate' to do as they see fit." Curtis Houck similarly complained about another commentator who "proclaimed" that Biden had "'a mandate' to implement his agenda."
The MRC also published a Nov. 12 column by Ben Shapiro, who huffed:"On Saturday evening, presidential frontrunner Joe Biden — who doesn't actually become president-elect until vote counts are certified — gave a preliminary victory address. In that address, he spoke of his mandate to govern: a mandate, he said, that extended to marshalling the 'forces of decency ... fairness ... science ... hope.' Which is a pretty vague mandate, as it turns out."
The MRC also defended Trump's increasingly desperate efforts to deny the fact he lost by launching specious legal attacks over vote counts in states. Duncan Schroeder grumbled that "On Sunday evening's CNN Newsroom, host Ana Cabrera and national security analyst Samantha Vinograd nastily attacked President Trump for daring to question their candidate's vote counts. Cabrera accused Trump of "a dangerous attempt to undermine" voting and Vinograd vehemently declared that "someone needs to FedEx President Trump a copy of the Constitution."Schroeder also asserted that Cabrera was "crazily ranting that Trump desires 'to undermine' voting" -- as if it was perfectly sane for Trump to try to disqualify millions of votes.
Norris returned to complain: On CNN's New Day, the leftist network completely dismissed Donald Trump's claims of voter fraud and election interference in the 2020 presidential election. Rather than report on the ongoing investigation, we are apparently supposed to trust CNN's judgement and credibility on this one." Norris offered no evidence that any of Trump's claims about election fraud were, in fact, credible; he played a mixture of handwaving and whataboutism by adding that "it remains to be seen if there is any more validity to the claims of voter fraud and misconduct, than there was about the litany of other scandals and claims made about Trump."
Clay Waters groused:
President Trump's refusal so far to concede Election 2020 to Democrat Joe Biden, nine whole days after Election Day and with over two months left in his first term, and with the official Electoral College count still over a month away, terrified the New York Times into comparing him to a motley crew of world dictators, in a repellent report on the front page of Thursday's edition: "Trump Borrows Election Tactics From Autocrats," by reporter Andrew Higgins.

[...]

Higgins continued adding to his monster rally of dictators to shame Trump into conceding less than two weeks after the election, with votes still uncounted and the Electoral College meetings in December: "Gen. Augusto Pinochet, who seized power in 1973 in a military coup in Chile, accepted defeat in a 1988 constitutional referendum that would have allowed him to stay in office, and relinquished the presidency in 1990 after an opponent won a presidential vote."
Waters didn't dispute the accuracy of the comparison, only complained that it was made.
Bill D'Agostino tried to falsely compare this year's situation to the 2000 presidential when, he claimed, "TV journalists indulged losing candidate Al Gore's protracted attempts to overturn the election, treating his lawsuits and requested recounts with great respect." In fact, the 2000 elected was determined by a 537-vote margin in Florida (which Gore lost, despite winning the popular vote), while Trump is actively trying to throw out thousands of votes across several states.
Meanwhile, the MRC continued to indulge Trump's protracted attempts to overturn the election. P.J. Gladnick responded to one commentator's concern that Trump was trying to steal the election by retorting, "It's not 'stealing' if legal challenges throw into serious question the way the voting was conducted."
Posted by Terry K. at 9:47 PM EST
Updated: Thursday, November 26, 2020 9:57 AM EST