CNS' Stenography of Lindsey Graham Doesn't Hold Up
Topic: CNSNews.com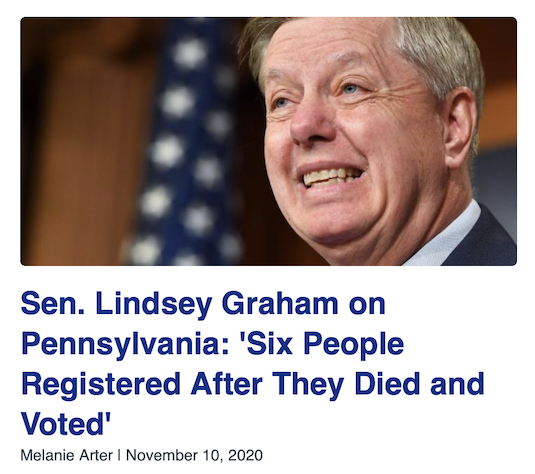 Stenography done by a "news" operation tends not to age well. But that didn't stop Melanie Arter, CNSNews.com's chief pro-Trump stenographer, for uncritically transcribing a Fox Business appearance by Republican Sen. Lindsey Graham in a Nov. 10 article:
When asked to react to the media declaring former Vice President Joe Biden the next president, Graham said, "Well number one, this is a contested election. The media doesn't decide who becomes president. If they did you'd never have a Republican president forever, so we're discounting them.

"So, what happened? The Trump team has canvassed all early voters and absentee mail-in ballots in Pennsylvania, and they've found over 100 people they think were dead, but 15 people that we verified that have been dead who voted, but here's the one that gets me. Six people registered after they died and voted. In Pennsylvania, I guess you're never out of it," he said.
But as others have pointed out, that 15, even if proven to be fraud, falls far less than the thousands of votes that Trump was behind in the state. And it turns out that at least one case was not fraud: one woman listed as having voted but died before the election had filled out a mail-in ballot two days before her death, according to her daughter. And who did she vote for? Trump.
Arter went on to transcribe:
Host Maria Bartiromo asked Graham about a postal worker who has a sworn affidavit saying that supervisors were back-dating ballots.

[...]

Graham sent a letter to Attorney General Bill Barr and FBI Director Christopher Wray saying that he received the affidavit from Richard Hopkins, the postal worker in Erie, Pa.
It turns out that after the Graham interview, Hopkins disavowed the affidavit, which he says was written by Project Veritas, the discredited right-wing activist group. Project Veritas then claimed that Hopkins recanted his recantation claiming he was coerced by Postal Service investigators, but the released audio doesn't demonstrate that.
Needless to say, neither Arter nor anyone else at CNS has reported on these developments, leaving Graham's discredited claim to stand uncorrected and not updated. It's just another piece of CNS' highly biased pro-Trump coverage after the election.
Posted by Terry K. at 12:45 AM EST
Updated: Tuesday, November 24, 2020 1:44 PM EST