MRC Tries To Lecture Biden On Being Catholic
Topic: Media Research Center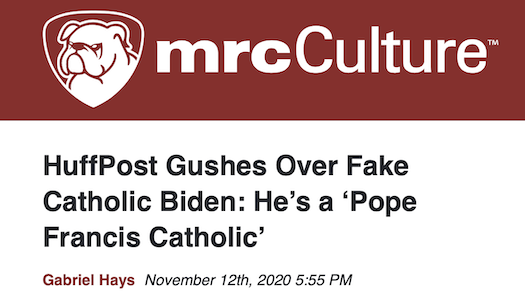 We've noted how the Media Research Center's "news" division, CNSNews.com, loves to lecture even Pope Francis on how to be Catholic. That tendency has spilled over to the MRC proper, where Gabriel Hays spent a Nov. 12 post whining about how Joe Biden, a lifelong Catholic, isn't Catholic enough because he doesn't hate gay people like Hays does and won't make abortion illegal:
One of the left's grossest tricks is to convince weak-minded Catholics that Biden is a good Catholic man. One outlet's latest attempt at getting readers duped into believing in Biden's piety is saying that he's a "Pope Francis Catholic," whatever that means.

On Thursday, The Huffington Post tried to sell apparent President-elect Joe Biden's saintliness by praising his Catholic faith and talking about its similarities to that of Pope Francis. Though anyone who has had any serious Catholic upbringing knows this is complete BS, mainly for the fact that Joe Biden needs to actually give a damn about Catholic teaching in order to be in line with anything the pope believes.

The piece ceremoniously touted Biden as the "second Roman Catholic politician" in the nation's highest office. That's such an achievement, right? Not if Biden is Catholic in name only. Still, we were waterboarded with the fact that Biden carries a rosary and how his faith keeps him going. The piece gushed, "Biden, an Irish Catholic who carries a rosary in his pocket, spoke often on the campaign trail about how his faith has led him through periods of suffering in his life."

Considering Biden is a radical pro-abort, pro-LGBTQ politician who has helped target religious groups like the Catholic "Little Sisters of the Poor" during the Obama administration, for example, he's completely at odds with Catholic teaching and Pope Francis, but of course, in the media's eyes, both men bring a nice and more "humble" approach to the faith.

So, if anything, Huffington Post was just reinforcing the fact that Biden is a hypocrite.
Actually, Gabe, nobody "targeted" the Little Sisters of the Poor; it refused to abide by the religious acommodation provided in the Affordable Care Act regarding coverage of contraceptives for its lay employees -- it did not qualify for a religious exemption because it employs non-religious people -- and was the instigator in filing a lawsuit to insist that checking a box on a firm infringed upon their religious rights (with apparently no concern for the rights of their lay employees).
Hays' tirade continued:
The media also love to make it look like prominent Catholics approve of un-Catholic practices. They love that a "Catholic" president is cool with officiating a gay wedding, for example, and they love it when the pope gives an unwieldy, taken-out-of-context quote< about homosexual "civil unions" as if that's a sign of a future evolution of church teaching.

Spoiler alert, Huffington Post: No matter what Joe Biden does, and no matter what the pope gives as his personal opinion, Catholic teaching maintains that it stays the same forever.
He finally concluded by sneering that "Joe Biden is a fake Catholic." Hays did not explain what expertise in Catholicism he has to determine who is a "fake Catholic."
But Hays is not the only uber-Catholic at the MRC in Heathering mode. Sergie Daez spent a Nov. 12 post having a fit that the Jesuits -- a Catholic order nobody can crediibly accuse of being "fake Catholic" -- committing the apparent sin of not hating Biden for not being Catholic enough:
Jesuits used to be known as the shock troops of the Counter Reformation. Nowadays in America, these Catholic priests and brothers of the Society of Jesus are little more than sycophants to liberal Catholic politicians.

The Jesuit magazine America recently published an article that touted presidential candidate Joe Biden as a practicing Catholic whose faith was a "gift." Many of his supporters say that "Nothing was more sacred to [Mr. Biden] than his church," among other things. Proof of Biden's piety includes his Mass attendance and carrying a Rosary.

That may all be true, but Biden's political and private life has seen him endorse enough anti-Catholic behavior to make a Muslim shake his head. This includes support for abortion, same sex-marriage, Obamacare in all its anti-religious freedom hideousness, and prosecution of nuns for following their religious beliefs. He even officiated a gay wedding.

But liberal Catholics believe that Biden is the greatest thing to happen to the Church and America since Dorothy Day.
Daez further complained that "Biden isn't willing to spread Catholicism to others, even though God said to "go and make disciples of all nations" in the bible," even though that's not Biden's job as president; he has to serve all Americans, not just Catholics.
Daez attacked the Jesuits again in a Nov. 18 post because its magazine argued that Catholic bishops shouldn't "alieniate" Biden by freaking out over his abortion stance the way Daez is:
Are the Jesuits interested in saving souls, which is their principal duty as priests and brothers, or running for political office? They seem to be heavily invested in government issues. Since when have these problems, like climate change for example, become equal in importance to ending infanticide? They need to get their priorities straight.

America not only wanted the bishops to tolerate Biden's stances toward abortion, they also maintain the laughable lie that Biden is a good Catholic. America resented the idea of preventing Biden from receiving Holy Communion. Labeling such tactics as a "political weapon," they then asked, "If Mr. Biden is denied Communion, should the same happen to the millions of Catholics who voted for him?"

[...]

The U.S. bishops and the Catholic community are supposed to love God above all else and then love others. If Biden's social justice comes at the cost of more infant lives, then it won't matter how much racial justice is achieved or global peace is obtained.
Apparently, the only good Catholics are those to the right of the dishonest and hateful Bill Donohue of the Catholic League (on whose board Daez's boss, Brent Bozell, sits).
Posted by Terry K. at 10:26 PM EST
Updated: Monday, November 23, 2020 10:35 PM EST