AIM Morphs Into Project Veritas With Hidden-Camera Stunt
Topic: Accuracy in Media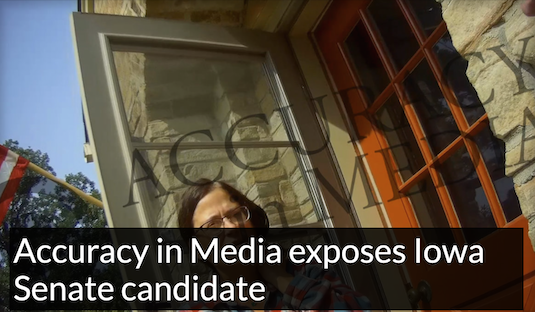 Accuracy in Media's president, Adam Guillette, came to the organization from the discredited Project Veritas. So perhaps it was inevitable that he would bring some of his former employer's stunts to AIM.
Before the election, it went after Democratic Iowa Senate candidate Theresa Greenfield. In the video, Guilllette ranted about how Black Lives Matter is a "radical, violent organization," then touted how AIM secretly taped Greenfield's husband stating that his wife supports BLM, as well as Greenfield herself. Guillette did not explain how his secret taping was legal, or why he was so desperate to pull this stunt that he had to go to Iowa to do it.
Guillette proclaimed himself to be "morally outraged when politicians say one thing to one group of people and another thing to another group of people," though we doubt he will ever do this same thing to a Republican politician despitethe fact that many of them are also two-faced. Guillette then promised more of this shady behavior: "Accuracy in Media hidden-camera investigators exposing lying, two-faced politicians. Accuracy in Media will also be exposing exposing lying, two-faced journalists."
So can we also expect AIM to self-destruct with bogus attacks the way Project Veritas has this election season?
Posted by Terry K. at 2:43 PM EST