CNS Melts Down Over Pope Declining To Hate Gay People
Topic: CNSNews.com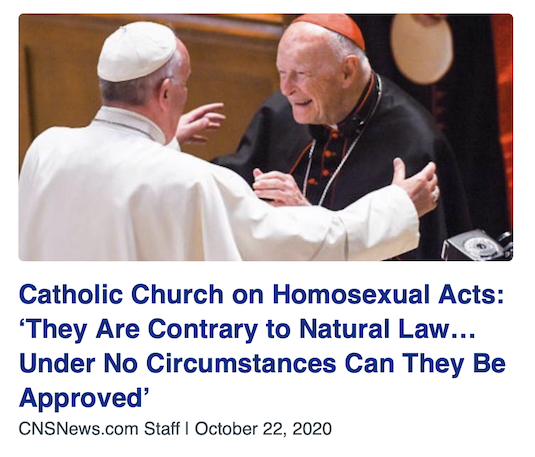 CNSNews.com's uber-Catholic editors hate gay people, and it also hates Pope Francis for failing to be a right-wing pope like Benedict XVI. So when Pope Francis effectively endorsed civil unions for gays because "they're children of God and have a right to a family," CNS went into a highly predictable meltdown mode with its usual arrogance of lecturing the pope about Catholicism.
Patrick Goodenough wrote that the pope's pronouncement "shock waves around the Catholic world," followed by reminders of how much the pope and all Catholics are apparently supposed to hate gay people:
Catholics on both sides of the divide over the sanctity of marriage and same-sex rights acknowledged that the pontiff's comments do not constitute a change in church teaching on homosexuality. The Catechism of the Catholic Church declares unequivocally that homosexual acts are "contrary to natural law," noting that the Bible "presents homosexual acts as acts of grave depravity."

A June 2003 from the Vatican's Offices of the Congregation for the Doctrine of the Faith – signed by the cardinal who would become Pope Benedict XVI less than two years later – states that, "The Church teaches that respect for homosexual persons cannot lead in any way to approval of homosexual behaviour or to legal recognition of homosexual unions."

And in a 2010 letter the pope himself, the then-Cardinal Jorge Bergoglio of Buenos Aires, called the push to legalize same-sex marriage in Argentina "a 'move' of the father of lies who wishes to confuse and deceive the children of God."
This was followed by an article from managing editor Michael W. Chapman denouncing the pope's "heretical remarks" and featuring how his favorite right-wing evangelical, Franklin Graham, "rebuked the pontiff's blasphemy." Chapman waited until the eighth paragraph to remind readers that Graham is a Protestant, not a Catholic. He also rehashed a Catholic document declaring that any legal recognition of same-sex relationships "would mean not only the approval of deviant behavior, with the consequence of making it a model in present-day society, but would also obscure basic values which belong to the common inheritance of humanity."
CNS then devoted an anonymously written article to rehashing how "The Roman Catholic Church says that homosexual acts 'are contrary to natural law' and 'under no circumstances can they be approved' ... says paragraph 2357 of the Catholic Catechism as posted online by the Vatican." This was followed by another anonymous article recounting that "Cardinal Joseph Ratzinger, who later became Pope Benedict XVI, authored a pastoral letter on the care of homosexual persons that was distributed to the bishops of the Catholic Church in 1986 that noted that St. Paul had listed 'those who behave in a homosexual fashion among those who shall not enter the kingdom of God.'" Strangely, no mention was made of the pope's pronouncement in either of these articles, which would have provided the context for their existence.
Finally, Chapman trotted out one of CNS' favorite right-wing Catholics, Raymond Burke, to declare that "no Catholic is bound to support the recent statements by Pope Francis in support of gay civil unions and gay families. Catholics are instead obligated to oppose such abominations, said Burke, because they are contrary to Church teaching and they are the private opinions of Francis as a man, not as the Supreme Pontiff."
CNS also gave a column to another right-wing Catholic, Rev. Michael Orsi, to assert that "Francis' remark about civil unions didn't rise to the status of an infallible pronouncement. They didn't even come close. In fact, they hold no theological weight at all." Orsi went on to huff that the pope's statements "are questionable and highly problematic. They seem to give approval to sinful behavior. They create the false impression that the Church now says homosexual relationships are acceptable, even equivalent to the love between a man and a woman" and that "his words actually undermine marriage." He concluded that "Pope Francis might want to be a bit more prudent in sharing his private thoughts."
Outside of Goodenough's original article that quoted some supporters of the pope's statement, CNS declined to give non-right-wing Catholics a voice in discussing this issue.
UPDATE: CNS also published a column by John Horvat II declaring that "God is offended" by the pope's statement because "no pastor can express approval for an intrinsically evil sexual relationship that will drag its participants to Hell unless they repent," and that "the faithful have the right and duty to resist his errors."
Posted by Terry K. at 3:59 PM EST
Updated: Tuesday, November 17, 2020 12:31 AM EST