MRC Gives Dubious Anti-Google Researcher Another Platform
Topic: Media Research Center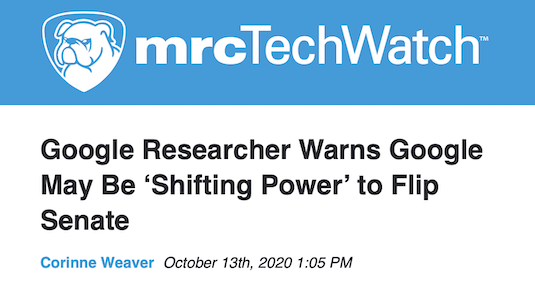 The Media Research Center absolutely loves Google-hating researcher Robert Epstein for his conspiracy theories about Google secretly gaming search results to steer users toward Democrats and against Republicans -- never mind that others have discredited him. So with another election coming up, it called on him again in an Oct. 13 item by Corinne Weaver:
The social media researcher who warned about Google's power to shift the election said that the company may be focusing on a new solution: the United States Senate.

Dr. Robert Epstein, senior research psychologist at the American Institute for Behavioral Research and Technology, told the Media Research Center that Google is "now focusing most of their vote shifting power on the Senate races, where big-margin outcomes will be hard to contest." Thirty-five seats in the Senate are up for election on Nov. 3, 2020. Out of those races, 23 seats currently belong to Republicans.

Epstein theorized that Google had the power to "mobilize the base supporters of Democratic candidates to register to vote and then to vote; they can discourage some Republican voters from registering to vote or voting." He wrote that the company had "at least 9 million undecided voters they can still play with."

[...]

Why would Google put so much effort into manipulating votes in order to flip the Senate? Epstein said, "That will guarantee a Democratic Senate, which will leave a Trump presidency powerless."
Needless to say, Weaver was silent about how Epstein's previous research was based on just 21 undecided voters and that he employed dubious methodology in determining the alleged bias of a given website. But he's saying what the MRC wants to hear to advance its war against social media and "Big Tech," so Weaver isn't going to bother herself with such details.
Posted by Terry K. at 1:42 PM EST