MRC Whines That Medical Journals Are Turning Against Trump For Mismanaging Pandemic
Topic: Media Research Center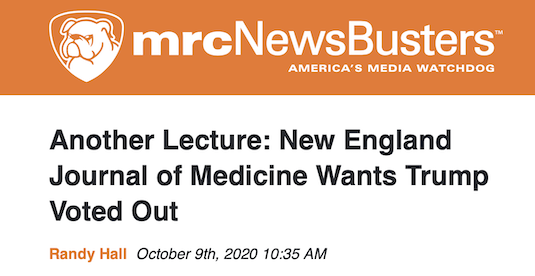 President Trump has mismanaged the coronavirus pandemic so badly that even scientific journals are taking the rare step of endorsing a presidential candidate (that isn't Trump). And the Media Research Center, being the media arm of the Trump campaign, is just not having it.
In a Sept. 17 post, Alex Christy complained about Scientific American magazine endorsing Joe Biden, "as if Science was opposed to Donald Trump."Christy went to the old MRC well in attacking "the magazine's new editor-in-chief Katie Helmuth, who has worked at The Washington Post and the leftist website Slate. That might explain the sudden decision to endorse a presidential candidate for the first time."
Christy noted how CNN's John King read from the magazine's editorial noting Trump's failures and Biden's plans, then hufffed:
King left out the hypocritical passages such as when they condemn Trump on masks, even though Biden campaign has been forced to rescind its mask mandate over constitutional issues.

Nor did he mention that the magazine hailed Biden's allegedly great plans involve wanting "to spend $2 trillion on an emissions-free power sector by 2035... partly paid by eliminating Trump's corporate tax cuts."

Finally, King left out that some of Scientific American's allegations against Trump have nothing to do with science, "Although Trump and his allies have tried to create obstacles that prevent people from casting ballots safely in November, either by mail or in person, it is crucial that we surmount them and vote."

[...]

Of course, science does not actually tell you why raising taxes is better for the environment, but such logic could be expected from a magazine whose editors are Democratic donors.
Christy didn't explain why he thought it was a bad thing for people to vote and a good thing for Trump and Republicans to stop them. Also, his proof that the magazine's "editors are Democratic donors" was a tweet by his boss, Tim Graham, highlighting three donations by lower-level editors totaling ... just over $1,000, including "$250 to Obama in 2008."
In an Oct. 9 post, Randy Hall ridiculously ranted that the prestigous New England Journal of Medicine went "far left" by endoring a presidential candidate for the first time ever:
Another medical and science publication is going far left. The New England Journal of Medicine on Thursday endorsed Joe Biden, calling for the incumbent to be voted out of office because he and his administration have "failed at every step" when responding to the COVID-19 pandemic.

According to an article posted by Lydia O'Connor, a reporter for the liberal HuffPost website, the "rare political statement from a scientific journal" was the first such recommendation in the publication's 208-year history.

[...]

Lancet Oncology also has endorsed Biden, ripping Trump for opposing ObamaCare. Journalists portraying all of this as simply just for "science," is simply not accurate. It's politics.
But Hall didn't seem to believe his own words, simply reciting the journal's criticism of Trump without bothering to rebut it. That suggests to us that he knows the scientists have a point, even if he won't say so out loud.
Posted by Terry K. at 2:18 PM EST