MRC Is Shocked To Learn People Don't Trust Trump White House
Topic: Media Research Center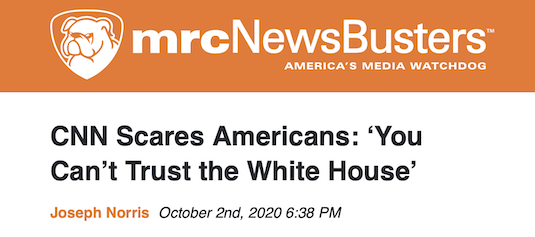 Conservatives have told people for years that we shouldn't trust the government to tell us the truth. So it's something of a surprise that the Media Research Center is offended (or at least pretending to be) when the media stated that the Trump White House or his doctors couldn't be trusted to fully disclose the extent to which President Trump was suffering from coronavirus.
In a totally unsurprising development, the MRC's Kristine Marsh blamed the media for not implicitly trusting Trump:
The media will never take any responsibility for why Americans find them so untrustworthy; all they can do is reflexively blame President Trump. ABC's chief White House correspondent Jonathan Karl perfectly displayed this point while visiting Friday's The View, discussing President Trump's positive COVID-19 test. He indulged the left-wing hosts' in stirring up a conspiracy that the White House was lying about President Trump's health.

[...]

The longtime ABC correspondent blamed this mistrust on Trump's "war on truth" as having caused the nation to split into two camps of conspiracy theorists: Those who won't believe anything coming out of the White House and those who won't believe anything in the newspaper or on The View[.]
Joseph Norris took much the same tack, even linking back to Marsh's post:
Nearly all of CNN's New Day on Friday was devoted to the news that President Trump has tested positive for COVID-19. During this media frenzy, one narrative was constantly pushed, that the American people cannot trust the President. Co-host John Berman tried to defend the irresponsible rhetoric: "When you lie about the little things it's hard to trust you on the big things and that's where we are this morning."

This has not only been a common thread on CNN, it has been prevalent throughout the leftist media. During The View they ran the exact same story challenging the credibility of the White House, especially regarding the pandemic. Neither show could provide evidence on why the American people should not trust the President.

[...]

It is troubling that the liberal network is so quick to accuse White House officials of lying and say that the American people cannot trust the information released without any evidence.
Like Marsh, Norris offered no reason why everything from the White House should be taken at face value and without question.
The MRC even defended the evasive answers given by Trump's doctors regarding his condition and treatment. Nicholas Fondacaro huffed that an ABC host "lashed out at Trump's doctor at Walter Reed Medical Center for "dodged key questions about his health." Of course, she omitted how Dr. Sean Conley still needed to follow the HIPPA [sic] privacy pledge even though he was the doctor for America's top public official."
Marsh returned to be mad that "The View" brought in respected surgeon Atul Gawande to discuss Trump's health, dismissing him as a Joe Biden supporter (though she offered no evidence that anything he said had a political motivation) and complaining that one co-host "even got the good doctor to suggest the president was only feeling well because he was high on drugs and his medical team was concealing his severe condition." She further whined of co-host Sunny Hostin: "Hostin worries that Americans can't trust doctors anymore, and so she brings on a partisan medical doctor to combat this dilemma? The View hosts didn't mention how Gawande endorsed Biden for president, called the Republican Convention an "autocracy," touted ex-WH aide Olivia Troye, and sent many other tweets blaming Trump for coronavirus deaths."
John Shannon, meanwhile, decreed that only people with medical degrees can critique Trump's doctors (despite his colleague Marsh having just trashed a doctor for doing that):
Despite not having a medical degree between the three of them, Morning Joe hosts Mika Brzezinski, Joe Scarborough, and Willie Geist had very strong professional opinions on Tuesday morning about how poorly the White House Medical Unit has handled President Trump's battle with the coronavirus.

Seeming to lament the President's improving condition after leaving Walter Reed Monday evening, the trio wailed that his doctor must be lying.

[...]

Wondering why in the world any physician would not loudly echo the talking points of the leftist media, Geist added: "But if you're a doctor, you don't have to get re-elected. What's the cost of telling the truth? (...) If the president fires you, okay, you go back to your job with the respect of other doctors and of your colleagues." Does the Hippocratic Oath require medical professionals to be liberal activists? Evidently so.

[...]

Scarborough remarked that "[A] doctor has a responsibility to not lie to the American people and the world." Apparently, journalists are held to much lower standards.
Shannon described the "Morning Joe" sergment as a "shameless attack on medical professionals" -- again, ignoring that's precisely what Marsh did to Gawande.
Posted by Terry K. at 8:52 PM EDT