CNS Gives Lindsey Graham A Pass On His Supreme Court Flip-Flop
Topic: CNSNews.com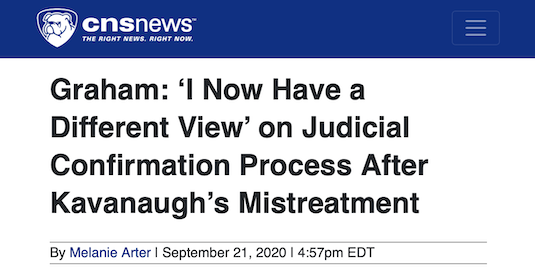 Republican Sen. Lindsey Graham did a massive flip-flop on Suprme Court nominations. He said in 2016, in an effort to justify his fellow Republicans' blocking of President Obama's SCOTUS nominee that the next president should make that nomination in the last year of his first term, adding that if a case came up when a Republican president was in the same situationb, "you could use my words against me, and you'd be absolutely right." But when President Trump was given the opportunity to fill a seat less than two months before a presidential election with the death of Ruth Bader Ginsburg, Graham lent his support to Trump.
But rather than call out Graham for this flip-flop, CNSNews.com helped him justify it. CNS' leading pro-Trump stenographer, Melanie Arter, devoted a Sept. 21 article to Graham explaining away his abrupt change of heart, even letting him play victim by blaming Democrats for it:
Sen. Lindsey Graham (R-S.C.) now has a different view on the judicial confirmation process, and his Democratic colleagues on the Judiciary Committee are to blame.

In a letter to told Democrats on the Senate Judiciary Committee, Graham said on Monday that the way Democrats on the committee treated Supreme Court Justice Brett Kavanaugh has changed his view on Supreme Court judicial nominees.
Since Graham made sure not to describe the behavior he was flip-flopping over, Arter didn't either. The rest of her article is just a copy-and-paste of Graham's letter.
By contrast, CNS has repeatedly attacked Joe Biden as a flip-flopper; a Sept. 29 column by Bill Donohue is headlined "Year-by-Year Breakdown of Joe Biden's Abortion Flip-Flop," and Arter gave Republian House Minority Leader Kevin McCarthy a platform to bash Biden, claiming that "I've never seen anybody flip-flop more.
Apparently, only some flip-flops are newsworthy at CNS.
Posted by Terry K. at 7:33 PM EDT