CNS Can't Let Go Of Its Biden-Is-Senile Narrative
Topic: CNSNews.com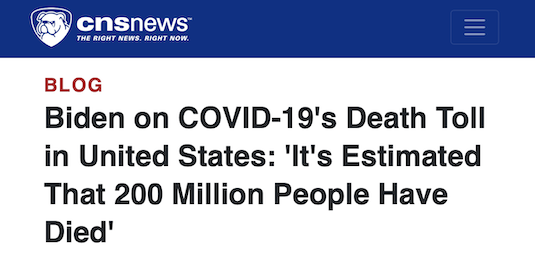 For months, CNSNews.com has been pushing the Trump-approved narrative that Joe Biden has some mental issues, if not actually senile (though it complains when Trump's mental slippages are highlighted). It continued to do so over the past month.
As he did in June, CNS' Craig Bannister played gotcha when Biden mistakenly said "millions" instead of "thousands" when describing the numbner of Americans killed by coronavirus. Instead of giving Biden the benefit of the doubt -- he said nothing when Trump embarassingly mispronounced "Yosemite" and "Thailand" -- he lectured:
For the second time this year, Democrat presidential nominee Joe Biden grossly exaggerated the number of coronavirus deaths while visiting Pennsylvania, claiming hundreds of millions, instead of thousands have died.

[...]

The U.S. population is estimated to be about 328 million people, meaning nearly two-thirds of the nation have died from COVID-19 if Biden's claim were true, when, in actuality, nearly two hundred thousand people in the U.S. have died from COVID-19.
In an anonymously written Sept. 28 article, CNS took seriously Trump's taunt that Biden needed to take a "drug test" before the first presidential debate, intoning that Biden had "no comment" when asked about it. The same day, in another anonymous article, seriously portrayed Biden's obvious joke that he had first served in the Senate "180 years ago" as another example of sanity slippage, noting only that he "briefly chuckled" over the remark and lecturing, "Biden was first elected to the Senate in 1972, which was 48 years ago, and took his seat in January 1973, whcih was 47 years ago.
Susan Jones tried to drag Biden's wife into its narrative in another Sept. 28 article:
Delicately treading on Joe Biden's mental state, CNN's Jake Tapper gave Jill Biden a pass when she firmly rejected Tapper's suggestion that "your husband has been known to make the occasional gaffe."

"Oh, you can't even go there. After Donald Trump, you cannot even say the word gaffe," Mrs. Biden told Tapper in an interview that aired on Sunday.
Jones has previously gotten mad that "Liberal activists in the media are now focusing in particular on Trump's mispronunciations" even as she has aggressively refused to do so.
Biden's vice presidential candidate, Kamala Harris, wasn't immune either. In a Sept. 15 article, Bannister asserted that Harris "made the kind of verbal slip made famous by the party's presidential candidate, former Vice President Joe Biden" by referring to "the Harris administration" in an interview.Bannister then hyped the "social media frenzy accusing Harris of a 'Freudian slip' based on the belief that she'll actually be the one running the show if Biden wins the White House."
Later that day, Melanie Arter wrote that "One day after Sen. Kamala Harris (D-Calif.), the Democratic vice presidential running mate to former Vice President Joe Biden, referred to what 'a Harris administration' will do, Biden himself has the same gaffe." She waited until the end of the third paragraph of his article to admit that Biden"correct[ed] himself."
Months of CNS pushing this narrative (with the Trump's campaign's presumed blessing) set the bar so low for Biden at the first debate that he was easily able to surpass expectations. Thus, CNS hasn't suggested anything about Biden's purported cognitive decline again since the debate.But look for it to pounce on any future Biden gaffes in a way it will never do when Trump makes them.
Posted by Terry K. at 1:28 AM EDT