MRC Writer Whines Media Covered Woodward Book Over Trump's Nobel Nomination
Topic: Media Research Center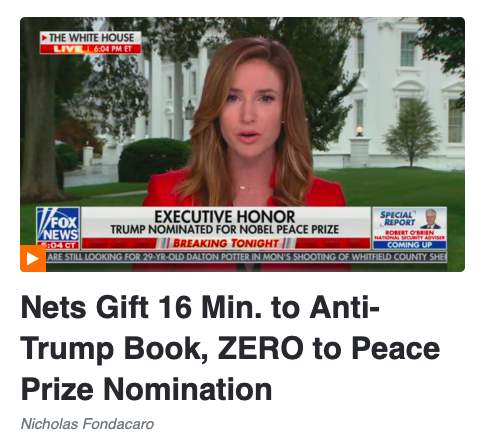 We've documented how the Media Research Center went into full damage-control mode against Bob Woodward's new book that extensively quotes President Trump in hours of interviews he gave to the journalist -- of course, since the MRC couldn't attack Trump for misquoting Trump since it's all on tape, it bashed Trump for the usual "liberal bias" and for even writing the book at all. But the MRC's most absurd deflection over the Woodward book deserves its own post.
It came from Nicholas Fondacaro, who actually dedicated an entire post to this:
It was easy to tell the broadcast networks were in full campaign mode on Wednesday seeing as they spent large chunks of their evening newscasts hawking yet another anti-Trump book, Rage by Bob Woodward. But while they spent over 16 minutes (16:26) being up in arms over something President Trump said publicly back in April, they used it to cover-up how the President was nominated by a member of the Norwegian Parliament for a Nobel Peace Prize, for his work in the Israel-UAE peace deal.

CBS Evening News dedicated by far the most time to the book, over seven minutes (7:08) between three different segments, with one just about Joe Biden's reaction. Next, was ABC's World News Tonight with over five minutes (5:09), and NBC Nightly News brought up the rear with over four minutes (4:09).
Because Fondacaro is a fundamentally dishonest person, he didn't tell his readers that Trump's nomination is effectively meaningless since a fairly large group of people can make nominations. He also refused to disclose that the person whonominated Trump is a Norwegian lawmaker who's notoriously anti-immigration and who likened Muslim headscarves to Ku Klux Klan uniforms.
Instead, Fondacaro gushed over the MRC's favorite "news" channel for doing his bidding: "Unlike the networks, Fox News Channel's Special Report managed to walk and chew gum at the same time, covering both the book and the peace prize nomination." Fondacaro lavished four paragraphs on how Fox News promoted the Nobel story. While he denounced the network journalists as "liberal hacks" rooting for Joe Biden, he refused to identify Fox News as a reliably pro-Trump outlet that would be prone to distracting from the Woodward story to tout the dubious Nobel story.
But then, Fondacaro is such a Bozell-bot true believer in the MRC's anti-media narrative that he may simply be incapable of seeing Fox News' obvious bias. Or he's lying like he usually does.
Posted by Terry K. at 2:22 PM EDT
Updated: Sunday, October 4, 2020 9:31 PM EDT