CNS' Chapman Helps Trump Do Some Manhood-Measuring
Topic: CNSNews.com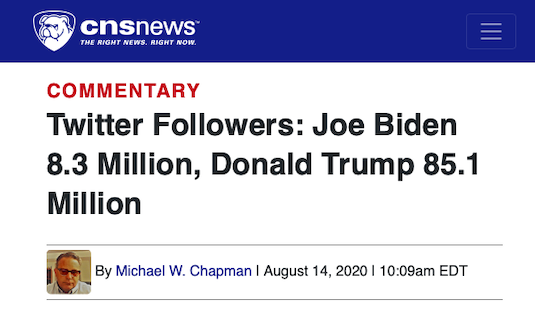 CNSNews.com managing editor Michael W. Chapman has long been a pro-Trump sycophant. He ratcheted that up with a strange bit of manhood-measuring in an Aug. 14 "commentary" post:
Although the leftist media are pushing hard for a Joe Biden-Kamala Harris presidential victory, and like to portray liberals in general as being tech-savvy, new media pioneers, the numbers for today, Aug. 14, show that President Donald Trump has 85.1 million followers on Twitter and Joe Biden has 8.3 million followers.

Vice President Mike Pence enjoys a following of 9.3 million people on Twitter. Sen. Kamala Harris (D-Calif.), Biden's vice presidential running mate, has 4.9 million followers.

President Trump tweets frequently, for better or for worse. It is a tool for him to go around the left-wing editorial gatekeepers of the media, who regularly lie about him, and speak directly to the American people.
Of course, the number of Twitter followers is not much of a measure of anything. Chapman was careful not to mention that former President Barack Obama has even more Twitter followers than Trump, at 120 million. Justin Bieber, Rihanna, Katy Perry and Taylor Swift also have more Twitter followers than Trump.
The only way Chapman could have written a better pro-Trump ad is if he let the Trump campaign actually write the thing and let Chapman slap his name on it (which, as a pro-Trump sycophant, we wouldn't put past him).
The fact that a managing editor is allowed to write such blatantly biased pieces undermines any idea that CNS has journalism that can be trusted as honest and objective.
Posted by Terry K. at 2:37 AM EDT