MRC Cheers That Homophobe Can Make Money At YouTube Again
Topic: Media Research Center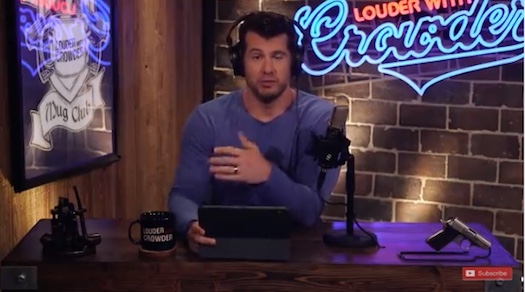 Last year, the Media Research Center was eager to portray right-wing "comedian" Steven Crowder as a victim of social media bias when YouTube demonitized his channel over the homophobic slurs he hurled at liberal commentator Carlos Maza, giving him the "it's just a joke" pass it will never give to a comedian who makes a joke about President Trump. Earlier this year, the MRC ramped up the conservative victimhood for Crowder while downplaying his homophobia.
The MRC's Kayla Sargent served up some good news for Crowder in an Aug. 14 post, while still managing to keep his victimhood intact:
It's a win for free speech. Conservative comedian and political commentator Steven Crowder will once again be allowed to draw ad revenue on his YouTube channel.

YouTube lifted the restrictions against Crowder on August 12, more than a year after he was originally demonetized.

Crowder was originally restricted on the platform in June of 2019 after Vox contributor Carlos Maza accused Crowder of making homophobic and racist statements towards him in a since-removed tweet.

Maza's accusations came to light on May 31, 2019, and YouTube promised that they would review Crowder's flagged videos. On June 4, the platform tweeted a reply to Maza's initial post, stating, "while we found language that was clearly hurtful, the videos as posted don't violate our policies."

Although YouTube did not take any initial action against Crowder, the pressure from the left and the media only increased, and some in the press called for Crowder's channel to be "shut down completely."
Sargent did concede that it was the fact that Crowder took down his homophobic videos, and not "YouTube's good graces," that got him re-monetized.She then warned: "The battle is never over, though. YouTube is still able to demonetize individual videos, and at any point, the platform could change its community guidelines again and restrict or even remove Crowder's channel at any time."
As is MRC tradition, Sargent was quiet about the homophobic details of Crowder's videos that got him demonetized in the first place, and she left unspoken that the main thing Crowder can do to keep from getting restricted in the future is not be such a homophobe.
Sargent went on to push Crowder's victimhood in later MRC posts. An Aug. 20 post on how a poll found that "73 percent of U.S adults believe that social media companies censor political viewpoints of their users" was an excuse to mention how "Until recently, YouTube had demonetized conservitive comedian and commentator Steven Crowder." That was followed by an Aug. 26 post complaining that "YouTube chose to censor more content on its platform during its second quarter than it had in any previous quarter" similarly referenced how YouTube had "demonitized [Crowder's] channel a year."
In neither of those posts did Sargent point out that it was Crowder's homophobia that got his channel demonetized.
Posted by Terry K. at 3:04 PM EDT