CNS Pushes Outlier Polls Claiming Huge Black Support for Trump
Topic: CNSNews.com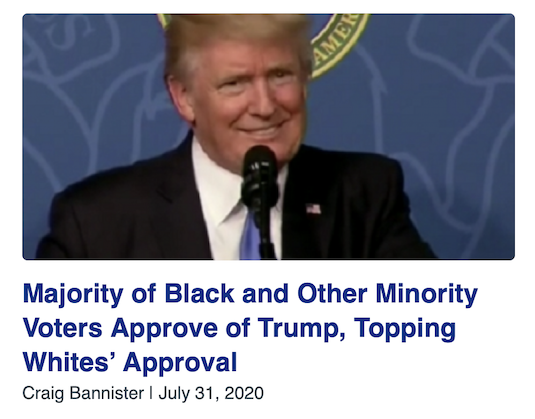 CNSNews.com loves to report on dubious outlier polls that make President Trump look good, particularly from Rasmussen, which FiveThirtyEight rates as skewed toward Republicans and graded at a middlling C-minus. Now CNS writer and chief poll-touter Craig Bannister has found a new pro-Trump Rasmussen poll to tout. He wrote in a July 31 article:
Approval of President Donald Trump's job performance hit its highest level in more than five months, aided by a majority of Black and other minority voters voicing approval, Rasmussen's daily Presidential Tracking Poll for Friday reveals.

The national survey of likely voters shows that 50% approve of Trump, the highest level reached since approval hit 52% on February 27. However, while 39% "strongly approve" of Trump, 43% "strongly disapprove." Total disapproval was 48%.

A slight majority of Black voters and an even higher percentage of other minority voters approve of Trump, the poll shows.

Among Black voters, 51% said they approve of Trump – topping the president's 47% approval among Whites. Sixty percent (60%) of voters of all other races said they approve of Trump's job performance.
If that black approval rating for Trump sounds wildly out of line with most pollsters, you're correct. For instance, an NBC News/Wall Street Journal found that black support for Trump has consistently polled in the low teens, and a June Washington Post/Ipsos poll found a mere 9 percent approval rating for Trump.
Nevertheless, CNS pushed this highly dubious narrative again in an Aug. 10 article by Andrew Davenport on, yes, another Rasmussen poll:
A recent poll from Rasmussen shows that 36% of black voters approve of Donald Trump's job as president.

According to the Rasmussen poll for July 2020, 36% of black American likely voters approve of the job President Trump is doing while 48% of white voters and 51% of non-white voters approve.

[...]

As president, Trump has touted economic numbers in the black community, especially highlighting low unemployment numbers. Before the Coronavirus pandemic, the White House released numbers in November 2019, showing black unemployment at a record low of 5.4%.
Davenport didn't mention the earlier poll citing 50 percent approval, nor did he note other mainstream polls showing a much lower black approval rate for Trump. Instead, he touted how "the Trump campaign launched the Black Voices for Trump program, which focused on increasing black turnout in the 2020 election."
Posted by Terry K. at 12:44 AM EDT