CNS Editor Bizarrely Likens Biden To King Henry VIII
Topic: CNSNews.com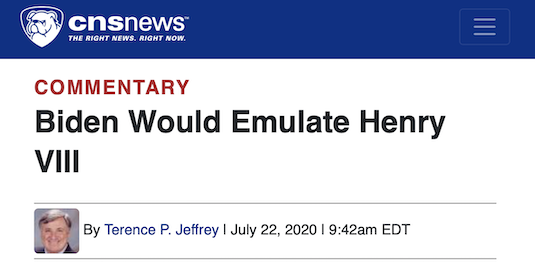 With his rabidly anti-Biden editorials, CNSNews.com editor in chief Terry Jeffrey doesn't inspire confidence in the fairness and balance of the "news" organization he runs.
In his July 22 column, Jeffrey ludicrously tried to liken Joe Biden to King Henry VIII, though try as he might, even he labored profusely to make the case that beheading Sir Thomas More and having insurance policies cover contraception is the exact same thing:
As punishment for following his conscience rather than a tyrant, Henry VIII beheaded More.

Now, More lives as a saint in heaven — and Henry VIII's name lives in infamy.

As noted, Biden says on his campaign website, "I'm a practicing Catholic."

But when Biden was vice president during the Obama administration, that administration issued a regulation that Catholics and other Christians could not in good conscience obey.

[...]

"If I am elected, I will restore the Obama-Biden policy that existed before the Hobby Lobby ruling: providing an exemption for houses of worship and an accommodation for nonprofit organizations with religious missions," Biden said.

Unlike Henry VIII, Biden will not behead those who refuse to act against their consciences and obey his mandate.
He will merely fine them millions of dollars — every year.
In his Aug. 12 column, Jeffrey ranted that "Joe Biden did not look to his right for a running mate. He picked someone whose policy prescriptions — like his own — are unambiguously on the left. Not only does Kamala Harris support Medicare for all, she would allow non-heterosexual people to be part of government:
She not only promised to appoint "transgender" people to "leadership roles" in her own presidential administration, but she also argued that "transition-related care" needed to be part of "comprehensive health care."

"And I will be intentional about appointing LGBTQ+ people — including transgender and gender non-conforming individuals — to leadership roles throughout my administration, from my cabinet to the federal bench and beyond," Harris said in an op-ed published on Nov. 1, 2019, in the Las Vegas Spectrum, which describes itself as a "news magazine geared to the LGBTQ and progressive community."

Does her commitment to appoint "transgender" individuals to her cabinet mean she would advocate for a biological male who says he is a female to be nominated to Biden's cabinet?

Would she advocate that a biological male who says he is female be appointed secretary of state? Secretary of defense?
Jeffrey didn't explain why such a thing would matter beyond CNS homophobes like himself and managing editor Michael W. Chapman.
Posted by Terry K. at 12:15 AM EDT