WND: 'Obama's Roots Are In Kenya'
Topic: WorldNetDaily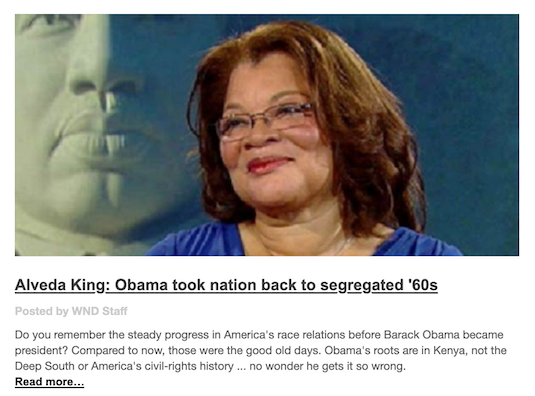 WorldNetDaily has never let go of its Obama birther conspiracies, and it occasionally likes to remind us of that fact.
In a July 31 email promoting an article on anti-abortion activist Alveda King attacking President Obama's eulogy of civil rights leader John Lewis as "more like a stump speech than a eulogy, taking America back to the segregated '60s," WND stated: "Do you remember the steady progress in America's race relations before Barack Obama became president? Compared to now, those were the good old days. Obama's roots are in Kenya, not the Deep South or America's civil-rights history ... no wonder he gets it so wrong."
That's an odd promo, given the article itself does not quote King blaming Obama for puported deterioration in race relations or question his "roots" or place him in Kenya. WND seems to have forgotten that Obama has never lived in Kenya, so claiming his "roots" are there is simply a figment of WND's overactive imagination.
It appears that one of the few remaining WND employees was suffering a flashback to the time when WND was making hay and lying with impunity about a black Democratic president. On the other hand, given WND's current dire financial situation, perhaps it's been paying for all those lies at last.
Posted by Terry K. at 1:03 AM EDT