WND Touts Anti-Abortion Angle In Coronavirus Vaccine Fearmongering
Topic: WorldNetDaily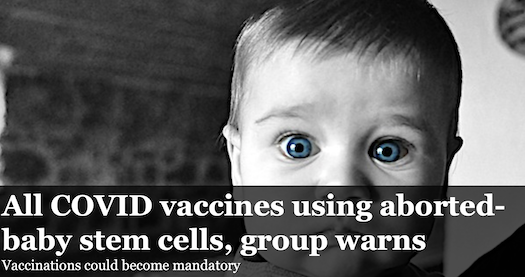 Fearmongering about a possible coronavirus vaccine is very on-brand for WorldNetDaily. Now it's trying to mix an anti-abortion argument into the fearmongering. An anonymously written June 22 WND article states:
As the Trump administration expresses optimism about the development of a vaccine for the coronvirus, a religious-liberty group is warning that the top vaccines under development are made with "aborted baby cell lines."

The vaccines are not from aborted fetuses but from aborted baby cell lines used by researchers, says Liberty Counsel, which is running a campaign urging members of Congress and governors to oppose a government plan to force vaccinations.

"As an American citizen who loves my country, my Constitution and my right to refuse forced vaccinations, I urge you to end all consideration of mandatory vaccinations," Liberty Counsel says.
Strangely, neither the WND article or the Liberty Counsel report the article is based on offer any proof that this is the case; Liberty Counsel cited only "reports." Nevertheless, WND uncriticallyreported how "Liberty Counsel Chairman Mat Staver is concerned that the top five vaccine research companies are 'using aborted baby cell lines to fuel their research and build their vaccines.'"WND also gave to Liberty Counsel to foward a conspiracy about drugmakers wanting a vaccine to make money:
The Liberty Counsel campaign points out vaccinations are big money for pharmaceutical companies.

[...]

Liberty Counsel said vaccines developed using aborted baby cells are easier to research and therefore cheaper to develop, increasing profitability for the pharmaceutical companies and their investors.

"And what better opportunity to make those profits skyrocket than to demand mass vaccination of the entire population … even though COVID-19 is now known to have just a 0.26% death rate, roughly the same as the average annual flu," the group said.

"It is absolutely imperative that we stop this push for mandatory vaccinations before it goes any further. Religious exemptions for vaccinations MUST stand. ALL people must be free to decide for themselves whether to take a vaccine – without the heavy pushing of multi-billion-dollar profiteers abusing our political system to remove those choices."
In fact, that 0.26 percent number -- which came from a report by the Centers for Disease Control, comes from a range of estimates and is subject to change, and the actual death rate is in all likelihood higher.Also, coronavirus is much worse than the flu.
Posted by Terry K. at 2:24 AM EDT