MRC's Kaepernick Derangement Syndrome, George Floyd Edition
Topic: Media Research Center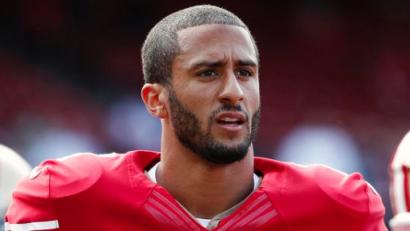 The Media Research Center has always despised Colin Kaepernick. Now that his kneeling protests against police brutality have proven prescient in the wake of the police-custody death of George Floyd, the MRC will absolutely not give him credit.
The MRC's chief Kaepernick-hater, the mysterious Jay Maxson, asserted on May 30 that Kaepernick was "blatantly defending the riots and the arson"; in fact, all he did was tweet (which Maxson called "damning") that "when civility leads to death, revolting is the only reaction."
Maxson whined on June 4 about the sportswriters pointing out Kaepernick's prescience: "With multiple stories dedicated to social justice, Colin Kaepernick, racist team nicknames, anti-police hit pieces and the like, this left-stream publication's sports page is nothing more than a politicized, left-wing gripe publication."
In a June 4 post, Alexander Hall complained that Twitter's donation of $3 million to a Kaepernick-run "activist fund" was evidence of how "Twitter CEO Jack Dorsey has gone out of his way to alienate himself from conservatives in the name of social justice" and his "his far-left plunge into identity-driven politics." Hall did not explain how the fund's stated purpose of "advanc[ing] the liberation and well-being of Black and Brown communities through education, self-empowerment, mass-mobilization and the creation of new systems that elevate the next generation of change leaders" was a "far-left" initiative.
Maxson returned to grouse on June 6: "NFL Commissioner Roger Goodell on Friday issued a video statement apologizing for the league's refusal to listen to players protests of police brutality. USA Today called it an exoneration of Colin Kaepernick's pathetic behavior in 2016 and demands he be signed by an NFL team. Deadspin says the commissioner didn't go nearly far enough and should have issued a lengthy apology to Kaepernick."
Jonas Wells then offered right-wing revisionism of Kaepernick's activism:
The problem with Kaepernick was never that he thought police brutality was bad. It was not even that he was unwilling to stand for the National Anthem (although it is easy to see how many would take offense to that, and his avenue of protest could be improved.) The real problem was an assertion that he gave in an interview after he first knelt, "I am not going to stand up to show pride in a flag for a country that oppresses black people and people of color."

First, he would have a legitimate cause if the problem was truly racial. But the numbers just do not pan out that way.

Secondly, by saying this, Kaepernick essentially claimed that the collective is at fault for racist acts of individuals. And from a historical perspective, he also makes a subliminal assertion that everyone must now pay penance for the sins of their ancestors.
Maxson branded Kaepernick an "America hater," then ranted against Kaepernick's new prominence:
Colin Kaepernick spewed volumes of hate and anger with his knee during the 2016 NFL season, and the America hater is about to rev up the volume on his rhetoric through a San Francisco publishing company. Kaepernick will join Medium's board of directors in addition to writing about race and civil rights.

Bloomberg reported Thursday that Kaepernick, for five seasons a quarterback with the San Francisco 49ers until he left the team in the spring of 2017, is linking his personal publishing label with the blogging and essay platform Medium and joining its board. Kaepernick's radical politics since the start of the 2016 NFL season turned off many football fans, and teams have avoided him like the plague.
Maxson also gave play to right-wing sportswriter Jason Whitlock's unsupported claim that there was no conspiracy among NFL owners to keep Kaepernick from continuing to play in the NFL, insisting that was because of his own "boneheaded decisions, overvaluing of his worth, race-baiting girlfriend and lack of genuine desire to play kept him out of the NFL."
Maxson further complained about one sport's columnist effort to reacquint fans with Kaepernick's football prowess so a team would hire him,muttering about the quarterback's allegedly "badly tarnished off-the-field public image."
Matt Philbin sneered that legendary NFL quarterback Brett Favre apparently "took a couple too many shots to the head for saying that Kaepernick could be considered a hero, adding: "Colin Kaepernick is an anti-American jackass who walked away from a contract with the 49ers and has been trying to get back into the NFL ever since. He's been unsuccessful because teams understand that most paying football fans are patriotic Americans who don't don't like seeing a millionaire athlete disrespect the nation that gave him everything."
Posted by Terry K. at 8:48 PM EDT
Updated: Sunday, July 5, 2020 9:50 PM EDT