MRC Tries To Keep CNN Conspiracy Theory Alive
Topic: Media Research Center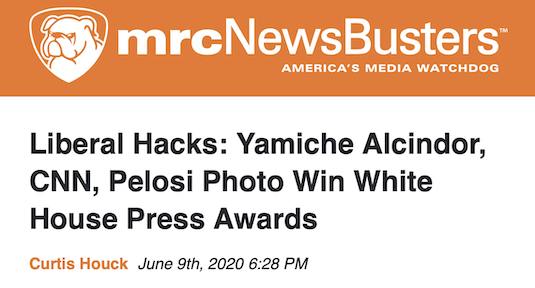 Curtis Houck began his June 9 Media Research Center post this way:
Try not to laugh or feel the urge to destroy your electronic devices after reading these quotes. On Tuesday, the White House Correspondents Association (WHCA) announced their 2020 award winners, which included the insanely partisan Yamiche Alcindor of taxpayer-funded PBS, the liberal hacks at CNN, and The New York Times.
That's right -- it's yet another MRC meltdown over journalists getting awards (though the only electronic devices in danger of getting destroyed are the ones in arm's length of Houck). Thus, we have the usual pained, unhinged exclamations from Houck like "What were the judges smoking?" But the really unhinged thing Houck wrote was this:
In the "Merriman Smith Memorial Award for Excellence in Presidential News Coverage under Deadline Pressure for Broadcast" category, WHCA handed first place to Jeffrey Zucker's CNN for being parked outside Roger Stone's Florida home on January 25, 2019 as FBI agents arrived before dawn to arrest him.

CNN has long denied being tipped off and insisted it came from a pure hunch. But no matter what they've said and will continue to say, the episode will always leave people skeptical.
That, of course, is the conspiracy theory -- promoted heavily by the MRC's "news" division, CNSNews.com -- that CNN happened to be on hand to film Stone's arrest because it was tipped off, possibly by special counsel Robert Mueller himself. Houck himself pushed it back in the day, refusing to believe CNN's claim it followed the story closely enough that it could prepare for an arrest.
Despite the fact that absolutely no evidence whatsoever has surfaced to contradict CNN's explanation, Houck is still embracing the conspiracy theory and insisting there's reason for people to be "skeptical." Of course, "people" in this case means unhinged, irrational CNN-haters like Houck who are paid to hate CNN.
The headline on Houck's piece indicates that he believes any journalist who's not a right-wingher to be a "liberal hack." But his insistence on clinging to a never-proven conspiracy solely because he hates CNN that much demonstrates what a right-wing hack he is.
Posted by Terry K. at 6:50 PM EDT