Double Standard: MRC Frets Over Heckling Of Fox News Reporter -- But It Cheered 'CNN Sucks' Chants
Topic: Media Research Center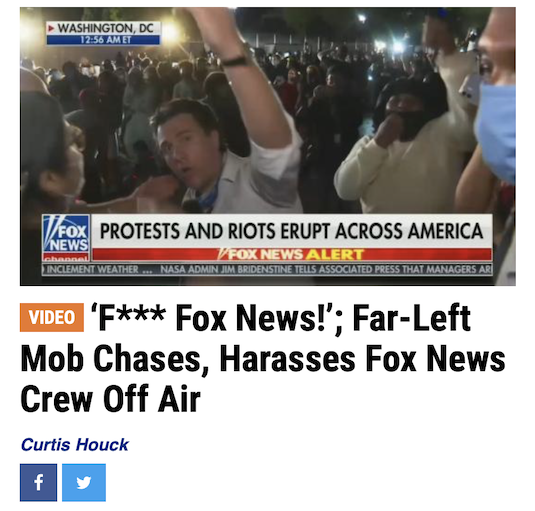 The Media Research Center's Curtis Houck was in high dudgeon in a May 30 MRC item, fretting that "Just before 1:00 a.m. Eastern Saturday, Fox News Channel's America's News HQ co-host Leland Vittert was chased, harassed, and heckled by violent, far-left rioters outside the White House and was forced to abandon the scene, having to toss back to Fox News @ Night host Shannon Bream." Houck followed up later that day, stating that Vittert was "viciously targeted and harassed than physically assaulted by far-left, Fox News-hating, rioting mob, their equipment, solely because they worked for Fox News[.]"
But Houck and his MRC colleagues would like you to forget that they are totally cool with journalists being harassed and heckled -- that is, when their employer is not Fox News. For instance, MRC writers were amused to no end when Trump supporters chanted "CNN sucks!" at CNN correspondents covering Trump events.
Let's look at how the MRC has hypocritically condoned and reveled in this threatening behavior over the years:
Tuesday morning's CNN New Day CNN began by playing a clip of a Donald Trump rally yesterday where the crowd began chanting, "CNN sucks" repeatedly. The CNN panel didn't like that one bit and blamed Trump for not telling the crowd to quit it. -- Kristine Marsh, Oct. 11, 2016
Why do people who lecture about the First Amendment find it unseemly for anyone to yell "CNN sucks!" Or "Lock her up!" Then the First Amendment seems like a questionable excess. -- Tim Graham, Nov. 22, 2016
When Barack Obama (and Bill Clinton before him) pummeled Fox News as a blight on America, did any liberals smell a whiff of authoritarianism? No. But when a Trump crowd chants "CNN Sucks," it's automatically an "authoritarian" crowd of proto-fascists. -- Tim Graham, Dec. 6, 2016
News analyst Kristine Marsh knocked it out of the park with a catchy headline and hilarious segment from CNN's New Day that featured gripes that anti-CNN chants at a Trump rally frightened them. -- Curtis Houck cheering what he claimed was the third most popular post at NewsBusters in 2016, Dec. 30, 2016
MSNBC journalists on Thursday whined about the treatment they were getting from Americans visiting Washington D.C. for Donald Trump's inauguration. ... He continued, "Standing on the stage with the media, we've heard chants of CNN sucks, of NBC sucks. We have heard very similar to the chants we heard during the campaign." -- Scott Whitlock, Jan. 19, 2017
Even before the presidential election took place on November 8, 2016, the co-anchor joined other CNN personnel in hyperventilating after playing a clip of a Donald Trump rally where the crowd began chanting "CNN sucks" repeatedly. -- Randy Hall, Feb. 9, 2017
Minutes later, [Jim] Acosta ranted about how Trump "has an unhealthy attitude toward the news media" and looked back on his rallies, including crowds chanting that "CNN sucks." ... Pause here for a second. CNN's White House correspondent says blasting the media is un-America [sic]? -- Jim Acosta, April 12, 2017
Hours before President Trump arrived on Monday night at a South Carolina campaign rally with incumbent Republican Governor Henry McMaster, CNN's chief White House correspondent and carnival barker Jim Acosta faced quite the crowd behind him during a live shot with chants of "go home, Jim" and "fake news Jim," while one attendee moved from side to side with a "CNN Sucks" sign. ... When he returned back live, Acosta spoke without hecklers about how some illegal immigrant children had ended up being housed from the border. From there, however, the rally attendees got their acts together and rejoined shouting "go home, Jim" while the man holding the "CNN Sucks" sign moved back and forth across the screen. -- Curtis Houck, June 25, 2018
Ahead of President Trump's Tuesday night rally in Tampa, Florida, CNN's chief carnival barker and showboater Jim Acosta was heckled yet again by the arena of Trump supporters, chanting "CNN sucks." Of course, Acosta chose not to ignore them and asserted that it's "false" that the Jeffery Zucker-led network "sucks." Okay, Jim. -- Curtis Houck, July 31, 2018 (Houck later added this to a condescending year-end list of the "worst Acosta moments of 2018.")

To put it bluntly, April Ryan's dislike of Sarah Huckabee Sanders or anyone opposed to her has arguably reached an unseemly territory. Appearing on Wednesday's CNN Tonight, the American Urban Radio Networks correspondent dismissed the harassment and threats against the White House Press Secretary and melodramatically surmised that Jim Acosta's "life...was in jeopardy" at Tuesday's Trump rally.-- Curtis Houck, Aug. 3, 2018
During Wednesday's edition of The Five, co-host Greg Gutfeld delivered a monologue highlighting the hypocrisy of the media for slamming President Trump when he goes after media outlets but looking the other way when New York City Mayor Bill de Blasio criticized Fox News during a recent interview with The Guardian. ... ["]They were silent when we were attacked although they spent all of last week crying about Jim Acosta and the "CNN sucks" chant, which, by the way, it kind of does. Okay?["] -- Ryan Foley, Aug. 9, 2018
But you know what else? The First Amendment also gives people the right to say "CNN sucks," but such criticism is taken nowadays as an incitement of violence. -- Curtis Houck, April 23, 2019
CNN Sucks: Primetime Ratings Down 26 Percent, While Fox News Dominates -- headline on Tim Graham post, May 1, 2019
The liberal media pretend they are the only guardians and practitioners of the First Amendment, and slime the conservative media as "state-run TV" and worse. Saying "CNN sucks" is also a use of the First Amendment, not its repeal. -- Promotion for Tim Graham and Brent Bozell's book "Unmasked," June 4, 2019
From defending his showboating to admitting that he's at times belligerent on purpose to conceding that fellow journalists loathe him, Acosta's conceited argle bargle showcased Acosta at its worst and the dangers of the liberal media's belief that the First Amendment only concerns them, neglecting how it also gives Americans the right to chant "CNN sucks." -- Curtis Houck, June 14, 2019
The liberal media often suggest President Trump was the one with thin skin; just look at how they lionize Speaker Nancy Pelosi's jabs at him. But during Tuesday's Anderson Cooper 360, CNN proved themselves to be the ones with thinner skin when they cut away from Trump's 2020 campaign launch rally in Orlando, Florida after the crowd started chanting "CNN sucks." Trump was discussing how the 2016 election was "a defining moment in American history" and told the crowd to ask the media for confirmation of that fact. The crowd booed at first but that gave way to the "CNN sucks" chanting. "By the way, that is a lot of fake news back there. That's a lot. That's a lot," the President quipped. ... So, President Trump and his supporters mocked the press and CNN had an absolute meltdown. All that over a "CNN sucks" chant. And isn't CNN supposed to be the "facts first" news outlet? -- Nicholas Fondacaro, June 18, 2019
[John Avlon] went on to say that the President loves to "deflect, distract, and divide." Though, wasn't it CNN who cut their coverage of the Trump rally after chants of "CNN sucks" rang out from the crowd? Who's really deflecting criticism here? -- Joseph Chalfant, June 19, 2019
Ah, yes. Unfortunately for the liberal media, even the President has First Amendment rights, just like Trump supporters have the right to chant "CNN sucks" and, no, it's not a death threat. -- Curtis Houck, July 15, 2019

but Houck somehow forgot to mention that time when, yes, that effectlvely was a death threat.
When a man who drove a van plastered with anti-media bumper stickers that in part echoed the MRC's anti-media narrative -- including one that said "CNN Sucks" -- Houck and the MRC couldn't work hard enough to try and separate the hateful rhetoric from the hateful bombing:
Despite [Brian] Stelter's insistence that he's not blaming Trump, he spent nearly 10 minutes blaming everyone from Trump to conservative media for Wednesday's violence [of a man sending mail bombs to CNN]. ... ["]Just one more point to make about that. Oftentimes at these rallies, you hear chants of "CNN sucks," chants of "fake news," chants "lock her up" about Hillary Clinton. Everytime that happens, he could tamp it down or he could cause it to get louder and oftentimes he wants it to get louder.["] -- Curtis Houck, Oct. 24, 2018
CNN's Inside Politics host John King insisted on Thursday's show that he wasn't blaming President Donald Trump for this week's mail bombs, but did exactly that. On Friday, King did it again, declaring that the pro-Trump bumper stickers on the suspects van (including "CNN sucks") "does not make the President responsible for this," even though he used the word "but" to then do not only that, but directly lecture Trump supporters. -- Curtis Houck, Oct. 26, 2018
Weekday morning CNN Newsroom co-host, chief national security correspondent, and former Obama administration official Jim Sciutto offered a repulsive piece of analysis Friday night on the suspect arrested in this week's mail bombs, comparing the President to Islamic terrorists like ISIS peddling online propaganda to help lone wolves become "self-radicalized" and carry out attacks. Of course, Sciutto received zero pushback on his asinine and ugly comparison. Instead, he was teed up by Situation Room host Wolf Blitzer, who remarked how the suspect "advertis[ed] on that van" with "all those stickers....where he stands politically" in addition to holding a "CNN sucks" sign at a Trump rally, so it was no surprise he decided to target them.-- Curtis Houck, Oct. 26, 2018
In addition, Nicholas Fondacaro got mad when the hosts on "The View" pointed out the "CNN Sucks" bumpter sticker and added, "Can you honestly say President Trump's words and actions didn't inspire this guy?"
Houck and the MRC are crying crocodile tears over the treatment of Vittert -- Fox News is its favorite channel, after all -- even though it egged on heckling and attacks on CNN reporters. A clear double standard if we've ever seen one.
Posted by Terry K. at 3:20 PM EDT