CNS' West Embraces Dubious Stats And Misinformation
Topic: CNSNews.com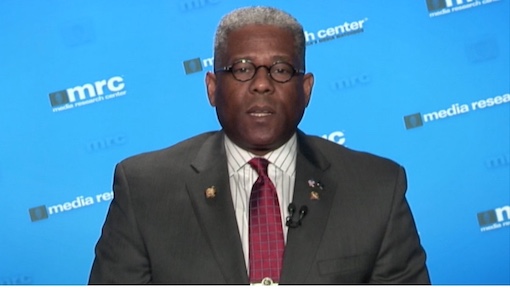 Media Research Center "senior fellow" and CNSNews.com column Allen West was in a motorcycle accident over the weekend, but that doesn't mean we can't hold him accountable for his recent dubious words.
West added to his dubious takes on the coronavirus pandemic with a May 4 column with this bit of fact-spinning:
Consider the facts in this matter. We firmly know, and have the empirical data showing that COVID-19 has a 99.6% recovery rate. We know that COVID-19 is most dangerous for those with underlying medical conditions such as hypertension, heart disease, COPD, Type 2 diabetes, and obesity. Those Americans over the age of 65 have been the hardest hit by COVID-19. Sadly, we have lost over 60,000 Americans, but it was just 2017-2018 when the common influenza season resulted in the loss of 61,000 Americans.

And we took no draconian measures then, nor was there an induced fear, panic, paranoia, and hysteria.

We were told that COVID-19 was different, but for the most part, it is not. It is still a virus that attacks the respiratory system. And America did not respond this way with MARS, SARS, Avian (Bird) flu, or the H1N1 (Swine) flu which affected 60 million Americans. As well, in the case of COVID-19, we clearly know that many deaths of Americans are being classified as caused by COVID-19, when there were preexisting severe health issues. COVID-19 is more of an enabler than a cause. People may be dying with COVID-19, but not because of it.
West is throwing out a lot of numbers and conspiracy theories here. His claim that COVID-19 has a "99.6% recovery rate" is false; it has a death rate of 1.4 percent. He likens coronavirus to the flu, which it is not -- it's much more dangerous because we know so little about it and there is no vaccine for it, and West's death numbers misleadingly compare coronavirus deaths from a three-month period to deaths over a a six-month-long flu season.
West is also trying to make the right-wing case that the death count for coronavirus is inflated because some victims had other comorbidities, purportedly making coronavirus "more of an enabler than a cause." Still, even in those cases, even West can't deny that coronavirus hastened their deaths, thus making them coronavirus victims. In fact, it can be argued that the opposite is true -- that coronavirus deaths is much higher than official statistics show.
West went on to rant about government "tyranny" as officials trying to slow the spread of the virus. "We have seen parents being arrested for playing with their children in parks," he wrote -- an apparent reference to a anti-vaxxer activist who was actually leading an organized protest.
He also wrote: "It is wrong to assume I am putting economic numbers above lives. Every one of those people who have lost their job, small business owners who have lost their livelihoods, are lives as well. And they are lives just as important, and sadly, some are taking their lives. In Montgomery County, Texas, there have been more suicides than deaths related to COVID-19." In fact, the suicide rate in that county -- a suburb of Houston -- was on the upswing well before coronavirus arrived.
In his May 11 column, West served up his usual anti-liberal screed:
I want America to recognize the abject deranged and devious intent of the progressive socialist left in America, the Democrat Party, to leverage a virus to their own electoral advantage. The Democrat (Socialist) Party wants the continued fear, panic, paranoia, and hysteria that their media accomplices have created. They do not want the American people to get back to work, to be released from the illegal martial law and house arrest that has subjugated our constitutional rights.

The left wants a COVID-19 boogeyman, just like the child who fears the monster in the closet at night and cannot get to sleep. COVID-19 has a 99.6 percent recovery rate, and just like there is no boogeyman in the closet, instead of our losing our rights, the left wants to restructure them for their electoral gain.

The new rally cry of the left is "mail-in ballots."
And it's clear West has decreed mail-in voting to be his new bogeyman. he ranted further:
Just last week, in Pelosi's California, her nephew, Governor Gavin Newsom, decreed that all ballots in California will be mail-in. Yes, just like that -- another unconstitutional edict, mandate, order from a leftist governor. And guess what: California is where Eric Holder has set up his base of operations. Coincidence? California also provides drivers licenses to illegals and allows them to vote in local elections.

It was also in California where a new leftist initiative – ballot harvesting -- was unleashed in the last national election, in 2018. That worked so very well for the left in California that Republicans who were heralded as the victor in their elections found themselves losing several days later.

You know, those ballots just kept flowing in from who knows where, and they were all for Democrats. This was prevalent in the Southern California area of Orange County, a Republican stronghold. You can rest assured that anything the left wants to implement nationally will first be tested in the progressive socialist laboratory called California.
No, Newsom did not "decree that all ballots in California will be mail-in"; all residents will have the abililty to vote by mail if they choose, but physical voting locations will still be open.And "vote harvesting" -- actually, just a change in procedure that allows anyone, not just a relative, to pick up and return someone's absentee ballot -- is legal in California, and Republicans who got caught flat-footed in 2018 plan to fully exploit ballot harvesting in this year's elections.
But West doesn't care about facts. He does, however, care about ranting a lot:
Yep, if you fear the COVID-19 boogeyman in the closet, and fear going out to vote, you can get a mail-in ballot. I told you it was absurd. The proliferation of COVID-19 fear, panic, paranoia, and hysteria is exactly what the left wants. And that is why this whole illegal martial law, shutdown, lockdown insanity must end.

[...]

The left needs a boogeyman. COVID-19 fits the bill, and they are going to milk this to restructure things to fit their vision. The Democrats sadly, seem to not want our economy to reopen, for Americans to get back to work. And we now know, they want to use COVID-19 to change our electoral system – for good.

The best solution? Just make our national election day a national holiday, yes, the first Tuesday in November each even year. Unless you are truly disabled, which Texas state law defines, or out of the country, you can get to a voting site.

We can ill afford the COVID-19 boogeyman in the closet to instill a fear that results in the loss of our Constitutional Republic. But that is what the left seeks.
It seems West believes that making it easier for Americans to vote is a terrible thing.
Posted by Terry K. at 11:35 AM EDT