MRC Finds Its Own Pandemic Silver Lining -- While Still Attacking Others Who Do
Topic: Media Research Center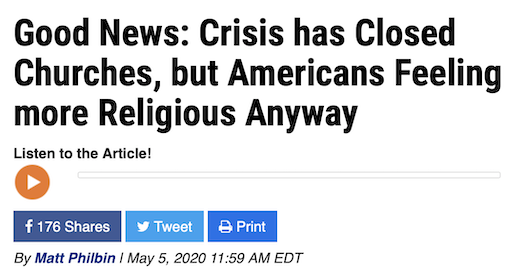 We've documented the Media Research Center is raging against anyone who dares to find a "silver lining" in the coronavirus pandemic -- mostly environmental effects -- while its "news" division, CNSNews.com, keeps finding its own silver linings -- mostly that people are feeling more religious. That pattern is continuing ... but with a twist.
Scott Whitlock complained in a April 25 post that "The journalists at CBS This Morning on Wednesday celebrated Earth Day by finding the upside to a global pandemic killing hundreds of thousands and destroying the economy" by noting "the rapid and amazing environmental improvements taking place during the pandemic." He declared this to be "tone deaf" (like another MRC writer) and huffed: "To underline, 180,000 people are dead. The journalistic excitement over this COVID-19 'silver lining' is tacky at best and ghoulish at worst."
Whitlock grumbled again on May 13 about another CBS segment that is "finding the environmental 'silver lining' to a global pandemic that has killed almost 300,000 people and is destroying the economy" in which it "described the environmental rebound (less pollution, more animals moving freely) as a response to humans 'mucking everything up.'" He raged: "Do journalists not see how unseemly all this 'silver lining' talk sounds?"
Well, Whitlock might want to have a talk not only with his CNS co-workers down the hall, but also with his officemate Matt Philbin, who found his own silver lining in a May 5 post:
The left is salivating about using the pandemic crisis to force massive changes to American society. Average Americans, of course, just want to go back to work or to the mall or to … church. And those desires -- in particular the last one -- could present a formidable stumbling block in the sprint to the new progressive future. Despite years of eager predictions to the contrary, "the opiate of the masses" is not dead. In fact, it's feeling better.

Since the pandemic began, secular progressives in the media have been spewing venom at Evangelical Christians, blaming their purportedly anti-science mindset for every setback in combating the virus and aghast at anyone worshipping something other than the environment or the state. (The communist Chinese government gets a pass, but fellow Americans trying to exercise religious liberty are smeared without mercy.)

All for naught, it seems. New Pew research published on April 30 found that "Some Americans say their religious faith has strengthened as a result of the outbreak, even as the vast majority of U.S. churchgoers report that their congregations have closed regular worship services to the public."
Is Whitlock going to attack his co-worker for being "tone deaf" or acting "unseemly" for pointing oiut this "silver lining"? Unlikely -- the MRC is not exactly known for holding itself to the same standards it demands from everyone else.
Posted by Terry K. at 11:42 AM EDT