Defending The Indefensible: MRC Finds Ways To Deflect From Trump's Injecting-Disinfectant Remarks
Topic: Media Research Center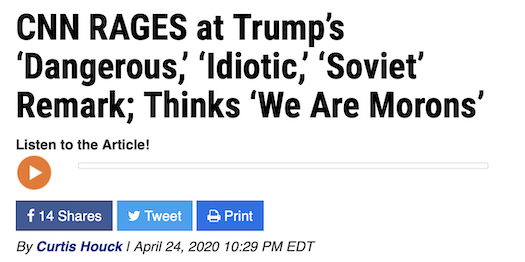 The Media Research Center will find a way to defend anything and everything President Trump says, no matter how indefensible. Trump's suggestion of ingesting disinfectant or bleach to kill coronavirus was as indefensible as they come, but the MRC will never say so. Instead it focused on parsing his words to make them less indefensible and attacking anyone who criticized them.
Typical was Curtis Houck, who hyperbolically claimed in the headline that CNN "RAGES" about Trump's remarks:
Friday afternoon, CNN melted down into a panel of juvenile performance artists, spending over 15 minutes screeching President Trump's remarks Thursday and a Friday follow-up about disinfectants and sunlight as a"dangerous," "double speak," "idiotic," "ludicrous," "Soviet fashion," and "a waste of time" (even though CNN was harping on it hourly).

[...]

A tsunami of partisans on both sides of the aisle decried what the President said while others like Ben Shapiro and fellow Daily Wire writer Ryan Saavedra noted that its not as black and white.
Houck also gratuitously mocked CNN's Anderson Cooper as "a gay Keith Olbermann that whined that Trump was the "five-year-old" child.
Clay Waters spun further by blaming the media for misinterpreting Trump and not Trump himself for saying dumb things: "President Trump performed some confusing speculation on the efficacy of ultraviolet light and disinfectants during his coronavirus briefing Thursday, and as usual, the New York Times overstated the facts to push its anti-Trump agenda."
Jeffrey Lord, unsurprisingly, went into full defense mode: "Supposedly sensible adults in the national media deliberately - say again deliberately - twisting the words of the President of the United States in the middle of a national emergency. Bad enough under any circumstances, but now?" After citing Saavedra's alleged fact-check -- not the actual content of it, mind you, just the headline -- he went on an anti-media rant:
The question is - why in the world would the media ever, ever, - so grossly, make that deliberately, re-cast perfectly understandable English to make it seem something it wasn't?

There is only one reason, and it is the same now very tired hysteria of Trump Derangement Syndrome. They hate Trump, so anything goes, even in the middle of a pandemic.

[...]

You would think that in the middle of a global pandemic in which thousands of Americans have already died that the media would be going out of its way to report necessary facts and put aside petty, political distractions that are in fact nothing more than bold misrepresentations of fact designed to damage a president they cannot abide.

But you would be wrong.
Nicholas Fondacaro conceded only that Trump's remarks were "sloppy," but didn't criticize him -- since that would violate the terms of his employment at the MRC -- and instead bashed CNN's Jake Tapper for a "bitter, self-indulgent rant" that criticized Trump and accused Republicans (and, therefore, Fondacaro) of failing to "acknowledge the reality of the situation."
Brad Wilmouth downgraded Trump's remarks even further, declaring that he was merely "spitballing about disinfectants and ultraviolet light to treat coronavirus patients."
Corinne Weaver seized upon a Facebook fact-check -- weird, since the MRC hates Facebook and hates that particular fact-checker for its purported liberal bias -- to trumpet the idea that because Trump did not explicitly "urge" people to inject disinfectants, it's false to say he suggested it. Weaver did not indicate whether she and the MRC would walk back its previous attacks on that fact-checker, Lead Stories.
Meanwhile, the MRC seemed to be tiring of having to defend Trump's words here. Kristine Marsh followed up by saying Trump's remarks were merely "sloppy," and Gabriel Hays claimed the interpretation that Trump suggested people ingest disinfenctants were just "media spin." Waters returned to grumble that Trump's "confusing speculation" and "admittedly rambling comments" about disinfectants has cause the Times "to imply the president is a dim bulb."
Kathleen Krumhansl tried for the full-defense gambit, accusing Spanish-sopeaking channels of having "joined their mainstream counterparts in a fake news offensive against President Trump," declaring that Trump was just making "comments on a study about the role of disinfectants and UV light in killing the coronavirus" and pretending that Trump never said anything controversial or irresponsible.
Finally, Wilmouth admitted that Trump was making a "confused suggestion" about disinfectants, instead criticizing CNN's Christiane Amanpour for asking a guest and praising the interviewee for nmot being "directly critical of President Trump."
Posted by Terry K. at 7:50 PM EDT
Updated: Sunday, May 10, 2020 10:56 PM EDT