MRC Whitewashes Franklin Graham's Anti-LGBT Beliefs
Topic: Media Research Center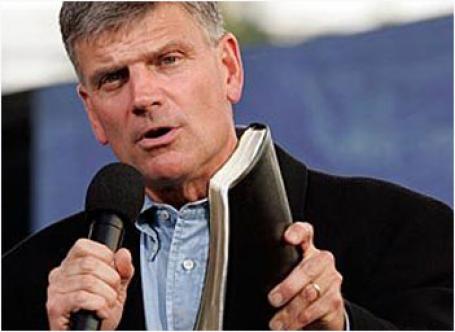 Franklin Graham hates gay people, and the Media Research Center does too. So when Graham's charity Samaritan's Purse set up a temporary field hospital to tend to coronavirus victims, the MRC was quick to defend Graham against those (accurate) homophobia accusations.
Gabriel Hays wrote in an April 15 post:
Rev. Franklin Graham is pushing back against lefties smearing his charity with accusations of homophobia in an effort to block the organization from administering to Coronavirus patients in New York City's Central Park.

The Christian pastor and son of the legendary Rev. Billy Graham appeared on Fox's The Ingraham Angle April 14, to discuss various LGBTQ groups' smear campaign against his humanitarian aid organization Samaritan's Purse.

Host Laura Ingraham asked Graham, "Why are you being attacked for building a field hospital? What's going on?" He explained, "We have a statement of faith, Laura, that marriage is between a man and a woman and that goes back to the beginning of time." He added, "this is our standard for people that we hire. We're a Christian organization, we're a religious organization so we wanna hire people of like mind."

A couple weeks ago, various lefties online moved to condemn the Christian charity for that " statement of faith." Of course, LGBTQ groups can't stand the very existence of folks or organizations with those beliefs and are trying to gin up a rap sheet of "discrimination" against Graham's charity. The accusations have received enough traction that there are protestors at the Central Park camp and even Democratic Lawmakers like Bill De Blasio expressed he'd look into the behavior of Samaritan's Purse. Of course.
But in framing Graham as merely being against same-sex marriage, Hays strangely omitted the part of the Ingraham interview where he claimed that "I don't bash homosexuals" -- which is pretty clearly a lie. Claiming that "none other than Satan himself" is behind LGBT rights and that "gay children" are "the enemy "is most definitely bashing. Instead, Hays fretted that "the reverend's first amendment rights are what's being discriminated against."
Also:" De Blasio is a "lawmaker"? He's the mayor of New York City.
Two days later, Matt Philbin complained that criticism of Graham's homophobia meant that "even in a massive health crisis, toeing the progressive line trumps all." He went onto tout how "FNC's Shannon Bream explained that the Christian charity on the front lines fighting the Chinese virus will finally get some positive reinforcement this Sunday night in the form 'Hope Rising,' a streaming concert to benefit the group and the people it's helping.The show is 'aimed at supporting their work while also encouraging you if you are struggling through these dark days,' Bream said." Philbin noted that "Lefties woried about 'discrimination' in the treatment of patients (apparently, they don't really understand the 'Samaritan' reference, and what a dispicable charge that is to level at people who work under that name)" but, like Hays, failed to mention Graham's anti-LGBT history.
After copying-and-pstsing Hays' weird line referencing "Democratic Lawmakers like Bill De Blasio," Philbin touted how "Christian actor and activist Kirk Cameron and his sister Candace will host 'Hope Rising'" and promoted it on Fox News. He didn't mention that Cameron has spoken out against gay marriage, declaring, "I would never attempt to try to redefine marriage. And I don't think anyone else should either."
Philbin concluded by sneering that the benefit concert could be streamed "even by LGBT people."
Posted by Terry K. at 2:51 PM EDT