Is This A CNS News Story? Or A Trump Press Release? Who Can Tell?
Topic: CNSNews.com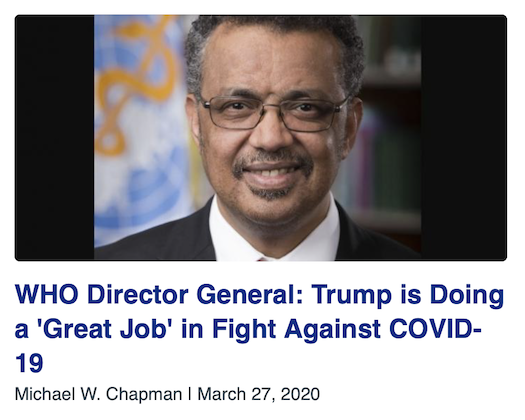 The Media Research Center's Tim Graham wrote in a March 13 post:
Is This a POLITICO Story? Or a Biden Press Release? Who Can Tell?

Take a look at this Politico story about Biden's coronavirus speech on Thursday -- but pretend you're reading it as a release on Biden for President letterhead. This is written by Adam Cancryn, a professional reporter for a respected, national media outlet. But it's not a story, it is a press release.

Suggestion: Get some Biden for President letterhead -- put this on it, make the reporter the contact with his email (acancryn@politico.com) ... and then post it, asking: Is this a Biden 2020 news release? Or a "news story" in a national media outlet? Can you tell the difference? We can't either....at least not until deep in the story, when Cancryn finally quotes the Trump campaign's response.

[...]

The Trump campaign response came in paragraphs 14 and 15. The other 16 paragraphs were Biden campaign music and lyrics.
Graham won't tell you this, but he's really complaining that Politico is reporting on Biden thte way the MRC's "news" division, CNSNews.com, reports on President Trump.
We've documented how CNS' news coverage of Trump is largely uncritical, even when it's spreading falsehoods.That sycophancy has continued over the past couple months with positively fawning takes on Trump that really have no purpose but to serve as PR piees for the president's re-election campaign.
A Feb. 24 article by Susan Jones described Trump's visit to India in absurdly glowing terms, complete with a headline that simply cribs from his speech:
Trump Travels 8,000 Miles With a Message for India: America Loves You

Throngs of Indians lined the route of President Trump's motorcade on Monday, as the U.S. president made his way to the world's largest cricket stadium in Ahmedabad to reinforce the U.S. relationship with one of the world's most populous countries.

The crowd of 125,000 people -- revved up by the introductory song "Macho, Macho Man" by the Village People -- cheered wildly as Trump and first lady Melania Trump were escorted to the podium by Indian Prime Minister Narendra Modi.

"The first lady and I have just traveled 8,000 miles around the world to deliver a message to every citizen across this nation. America loves India; America respects India; and America will always be faithful and loyal friends to the Indian people," Trump said.

Trump thanked the many people who turned out to welcome him, "in a stunning display of Indian culture and kindness."
That was joined by an article the next day, in which managing editor Michael W. Chapman gushed: "While speaking to an estimated 110,000 people at the Motera Stadium in Ahmedabad, India on Monday, President Donald Trump stressed that 'our nations have many differences' but 'every person has a sacred soul' and 'we are all born' to aim high and 'give all glory to God.'" As if Trump actually thinks that or wrote those words.
As questions grew about Trump's handling of the coronavirus pandemic, CNS was quick to tout polls showing that Americans (barely) approve of his work and not that of his critics, like the media:
CNS reinforced this narrative with a column headlined "Why Does President Trump Have the Highest Approval Ratings of His Presidency?"
Craig Bannister transcribed Fox News personality Geraldo Rivera's praise for Trump, in which he proclaimed Trump "the right warrior for this fight" providing "effective, yet flamboyant leadership" and doing "an epic job."
This presidential fawning reached an apex with a March 27 article by chapman further shoring up Trump's alleged leadership against the pandemic by treating bland boilerplates from the the head of the World Health Organization as something akin to an endorsement:
Dr Tedros Adhanom Ghebreyesus, director-general of the World Health Organization (WHO), applauded President Donald Trump for "the great job" he is doing in harnessing the tools of the private sector and the public sector to combat the coronavirus.

On March 23, Dr. Tedros tweeted, "Productive call with President @realDonaldTrump."

"I appreciated him for the great job he is doing to fight #COVID19 through whole-of-government approach, leveraging R&D, engaging private sector incl. on essential medical supplies, expansion of testing, educating public," wrote Dr. Tedros.

At a March 23 press briefing, Dr. Tedros also said, "Fighting this pandemic needs political commitment and commitment at the highest level possible and the president's [Trump's] commitment, you have already seen it."

"And that kind of leadership is very, very important, the whole of government approach, to mobilize all sectors to suppress the pandemic," he said. "So I know he's doing all he can."
Of course, Tedros' sucking up to Trump didn't keep him from attacking WHO and threatening to withdraw U.S. funding for the organiation.
If Graham genuinely thinks news articles should not read like campaign press releases, he should fix his own house first and examine the practices of his employer's "news" division before attacking other media outlets.
Posted by Terry K. at 5:11 PM EDT
Updated: Monday, April 13, 2020 10:26 PM EDT