MRC Thinks Facebook Is 'Backsliding' And 'Caving' Because It Has Standards
Topic: Media Research Center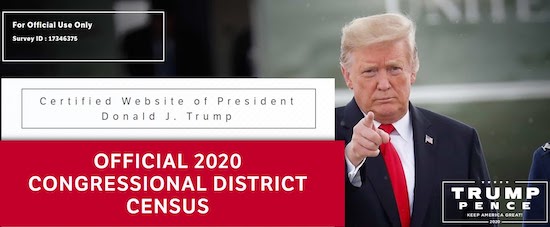 The Media Research Center has a narrative that Facebook is irredeemably liberal despite all the evidence to the contrary (secret dinners with Brent Bozell, anyone?), and it has to cling to that narrative. It also feels it has to continue to bully Facebook if it ever looks like it won't be a right-wing shill. In December, for example, the MRC's Alexander Hall accused Facebook of "backsliding" on "free speech" by scrutinizing political ads (beause conservatives like consider it "restricting free speecn" to political ads to any sort of standard of truth and accuracy).
True to form, Hall got mad in a March 6 post when Facebook cracked down on Trump campaign ads that falsely presented themselves as linked to the upcoming census, under the headline "Facebook Caves":
A liberal journalist blasted Facebook until it removed certain Trump campaign ads as the 2020 Census approaches.

Founding Editor-in-Chief of the now defunct outlet Think Progress Judd Legum scorched Facebook for "running more than 1,000 ads on Facebook promoting" what he called "a fake 2020 census." The piece written for his liberal news outlet Popular Information seems to have caused Facebook to change its mind, removing the Trump campaign's census ads. "Just hours after this piece published," Legum tweeted, "Facebook reversed course and said they would take all of the Trump census ads down."

[...]

In the update at the top of Legum's Popular Information's coverage, it declared victory. "Facebook abruptly reversed course and said they would take down the Trump campaign's ads about the Census," it wrote. Facebook reportedly disclosed the decision via email to The Leadership Conference on Civil and Human Rights president Vanita Gupta. Gupta had reportedly contacted Facebook over the accusations made in Popular Information's article on the Trump ads.

Facebook allegedly wrote: "Upon further review, these ads are currently being taken down given the policies in place to prevent confusion around the official U.S. Census."
Hall doesn't even bother to defend the ad's content -- perhaps because he knows he can't. Nor did he bother to describe for his readers exactly how those ads were misleading. As the above image shows, the ad presented itself as the "Official 2020 Congressional District Census," coming from the "Certified Website of President Donald J. Trump," complete with a survey number "For Official Use Only."
Instead, Hall invoked Robert Epstein, whose usual schtick is hating Google, calling this "censorship," adding "Whether u know it or not, #Google-&-the-Gang will decide who our next president will be. #BeAfraid."
Four days later, Hall played the "Facebook Caves" card (and headline) again, upset that Facebook accurately pointed out that a misleading right-wing edit of Joe Biden tweeted out by Trump was, in fact, misleadingly edited, blaiming the Biden campaign and the "liberal media" fo rpurportedly forcing Facebook to make that ruling "under liberal pressure after Twitter labeled the video clip as 'manipulated media.'"
Hall conceded that the video actually was misleadingly edited -- cutting off immediately after saying "We can only re-elect Donald Trump" where he said that could happen "if in fact we get engaged in this circular firing squad here. It's gotta be a positive campaign.'" But then, he seemed to be suggesting the video was flagged because it showed Biden "stammering" -- a word he put in the headline and used three times in his item.
Posted by Terry K. at 9:26 PM EDT