MRC Pretends To Read Major Garrett's Mind (And Does Another Bogus Trump Coverage Study)
Topic: Media Research Center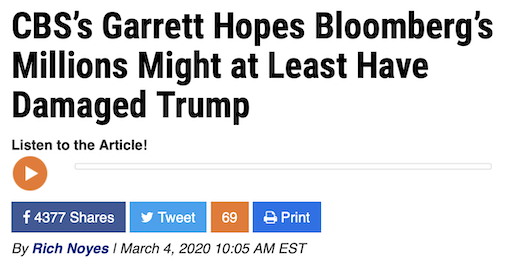 The Media Research Center likes to pretend it can read the minds of journalists and correspondents in order to perpetuate its notion of a biased "liberal media." It did so again in a March 4 post by Rich Noyes headlined "CBS's Garrett Hopes Bloomberg's Millions Might at Least Have Damaged Trump."
But even Noyes doesn't actually claim that CBS correspondent Major Garrett expressed "hope"; instead, he repeats the old MRC complaint that Garrett reported something he didn't like:
On Wednesday's CBS This Morning, correspondent Major Garrett suggested a silver lining (for liberals) after Michael Bloomberg's massive campaign spending failed to produce any meaningful boost for his presidential hopes on Super Tuesday.

Garrett wondered if the past three months of Bloomberg's TV advertising might somehow accomplish what years of extremely negative news coverage could not, i.e., put a significant dent in President Trump's support.
Advancing the not-radical concept that Bloomberg's advertising may have hurt Trump's popularity is not "hope"; it's reporting. Of course, the MRC collectively think that everyone in the non-conservative media are constantly scheming to destroy Trump -- mostly by, you know, reporting facts -- so that sort of paranoia is not a surprise.
In the middle of this post, though, Noyes dropped the results of the MRC's latest bogus "study" of Trump coverage (needless bolding in original):
According to the MRC's ongoing tracking, the spin of ABC, CBS and NBC evening news coverage of the Trump presidency has been 92% negative during the past six months (September 1 through February 29). For the entire Trump administration (beginning January 20, 2017), the coverage on those networks has been 90% negative.

Those broadcast network statistics do not include the oceans of cable TV airtime devoted to the Russia investigation, the Ukraine investigation and impeachment, as well as hour upon hour of general complaints about the President's policies and personal style.
As is usual, Noyes extrapolates its so-called examination of "evaluative comments" about Trump of a tiny sliver of coverage as something much larger (though he admits it doesn't include cable news, which means it doesn't include Fox News), and he doesn't provide the actual statements so we can judge for ourselves.
Posted by Terry K. at 3:01 PM EDT