Despite Her Extremism, MRC Defends Conservative Answer to Thunberg
Topic: Media Research Center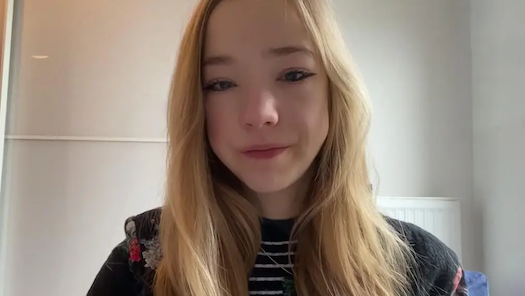 The Media Research Center's Alexander Hall came to the defense of a newly minted conservative answer to Greta Thunberg -- whom the MRC loves to bash for her purported "radical" and "extreme" views on climate change -- in a Feb. 25 post:
A 19-year-old German woman is being hailed as the conservative response to climate change activist Greta Thunberg. She has condemned climate alarmism as a "despicably anti-human ideology," and liberal journos are heated about it.

Naomi Seibt encourages rationality in the face of climate alarmism and is seen as the conservative answer to climate change activists like Greta Thunberg. She is currently being supported by libertarian think tank The Heartland Institute, and was reportedly hired as the figurehead of its campaign to question the scientific consensus about climate change. "If imitation is the highest form of flattery, Heartland's tactics amount to an acknowledgment that Greta has touched a nerve, especially among teens and young adults" The Washington Post wrote in its Feb. 23 coverage.

The outlet went on to describe Seibt as the "anti-Greta." Liberal commentators were shocked, ranging from slurring the German teenager as a "NAZI" to theorizing the apocalyptic conspiracy that she is "paid to speak nonsense to convince people to continue business as usual and poison us all."

Aside from Seibt's arguments against climate alarmism, journalists have specifically come after her for associating in any capacity with the Alternative for Germany (AfD) party. The AfD was described in the article as "the biggest opposition party in parliament." The Post quoted one former AfD leader Alexander Gauland, when he vowed they are fighting "an invasion of foreigners.
Unfortunately for Hall, the "Nazi" attack is not as far off the mark as he would like you to think it is. The BBC has documented just how far-right the AfD party is, and it's not just an anti-immigration party:
The party's leader in the eastern state of Thuringia, Björn Höcke, once described Berlin's Holocaust memorial as a "monument of shame" and called for a "180-degree turnaround" in Germany's handling of its Nazi past. Picking up the same theme, Alexander Gauland trivialised the Nazi era as "just a speck of bird's muck in more than 1,000 years of successful Germany history".

The AfD has managed to attract voters from the centre right and even the centre left but in the words of Verena Hartmann, a moderate MP who left the party in January 2020 because it was becoming to extreme: "Those who resist this extreme right-wing movement are mercilessly pushed out of the party."

In the words of Matthias Quent, a German expert on the far right based in Thuringia: "Not everyone in the AfD is ideologically far right, but anyone in the party or even voting for the party is supporting a party that has a far-right objective."

[...]

Alexander Gauland, a 78-year old lawyer, has been with AfD from its Eurosceptic start and his political career began decades earlier with the centre right.

As AfD moved to the right so did he, making a number of remarks condemned as racist. In 2016 he talked about footballer Jérôme Boateng, who was born in Berlin to a Ghanaian father. "[Germans] like him as a football player. But they don't want to have a Boateng as their neighbour."

[...]

Alexander Gauland drew criticism for declaring that Germans should be "proud" of their soldiers in both world wars. While SS units were notorious for German atrocities in World War Two, the regular armed forces also committed many war crimes.

[Former leader] Frauke Petry once tried to end the taboo on the Nazi-era term völkisch, which comes from the German word for people but was hijacked by the Nazis to define those they saw as belonging to the German race.
Additionally, Seibt has cited as an "inspiration" Stefan Molyneux, an advocate of white nationalism, eugenics and "scientific racism." At CPAC a week ago, Seibt said she still considers herself a "fan" of Molyneux. The MRC's NewsBusters and CNSNews.com both published a 2018 column by Michelle Malkin whitewashing, as it were, Molyneux as an "author and philiosopher."
Seibt also got caught complaining that Jews are "at the top" of groups seen as being oppressed, while "ordinary Germans" are at the bottom. (Seibt claims the remark was taken out of context.)
Hall also failed to mention that his fellow conservatives are critical of the Heartland Institute using Seibt. Brad Polumbo of the conservative Washington Examiner wrote: "Groups such as Heartland are free to question the science of climate change. But if they want to avoid looking like massive hypocrites, let alone convince anyone, they ought to present arguments and evidence, not hide behind teenage YouTube trolls looking for five minutes in the spotlight."
But narratives are more important than facts at the MRC, so the full truth about Seibt must stay hidden -- even after months of attacking Thunberg as an "extreme" "radical."
Posted by Terry K. at 2:47 PM EST
Updated: Friday, March 6, 2020 10:15 PM EST